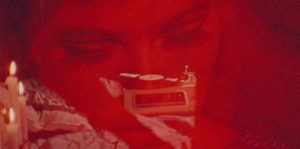 Pauline Jorry is a non-actor, and Svenonius said at the Q&A proceeding the screening that this was the first and only movie she ever plans on doing. Cabral provides the voice of the protagonist. Both directors wanted to encapsulate the feeling of those Italian films from the '60s, which always had English overdubs. Something about the dubbing of Jorry's voice makes the whole experience even more surreal.
The Lost Record is gorgeous. Cabral functioned as the art director as well, and the production design helps encompass the strange retro-future timelessness of the setting. The costumes are amazing, particularly Jorry's red leather suit. The music is obviously a selling point of the film. The songs are all part of Svenonius' oeuvre, so if you're a fan of his, it's painfully obvious that you should see this.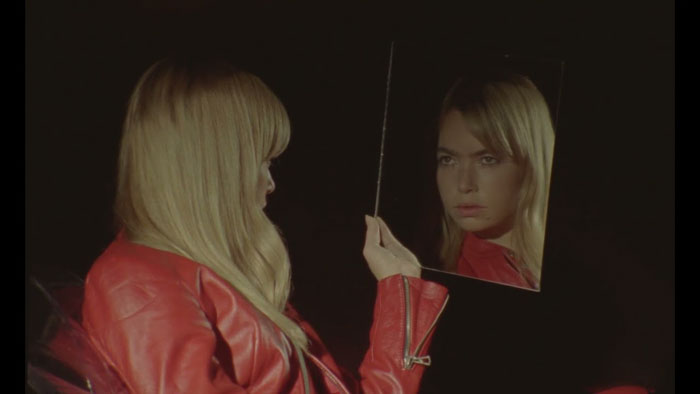 "… a rare diamond of a film that you absolutely gotta see..."
Outside of the music, there's a fascinating philosophical discourse about society. The filmmakers examine how we're obsessed with the appearance and novelty of things, how in a post-digital world, communicating with people truthfully, forming your own opinions, and being unique is almost impossible. These are things that take effort but are worth it in the end. Otherwise, we run the risk of becoming even more of a shallow dystopian society than we already are.
With The Lost Record, Svenonius and Cabral created a rare diamond of a film that you absolutely gotta see if you're even remotely cool. The worldbuilding is very impressive, especially considering the crew didn't consist of a lot of people. The screenplay, by Svenonius, has such a smart, funny commentary on the current state of music and art. I really can't recommend this enough to people who want to see something different from… well, anything.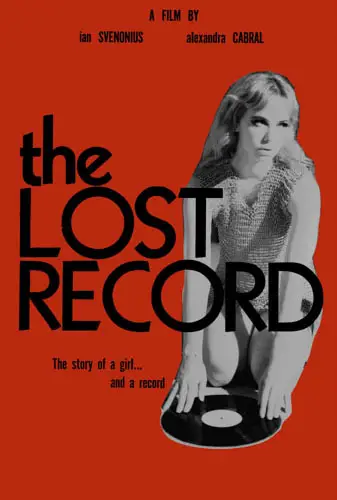 "…a fascinating philosophical discourse about society."