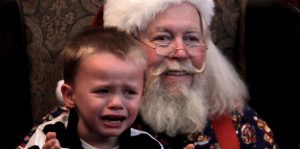 Without a doubt, the shopping mall Santa is as much an enigma as the real thing. He shows up once a year, listens to a bunch of kids mumble through their snot, and then he's gone. Only instead of disappearing into the night sky on a magical sleigh, the Santa-for-hire sputters away in a beat-up sedan with a Bass Pro Shops bumper sticker. We know the actual Santa returns to the North Pole, but where do the real-life Santas go? I Am Santa Claus, a documentary directed by Tommy Avallone, comes down the chimney with a big bag of answers.
We're introduced to a handful of Santas, each of whom is a very different man behind the beard. There's Alex, who spends the off-season as Mr. Polar Bear at the Texas Bear Roundup—bear, as in big hairy gay fella—and pining for his boyfriend, whose job as a UPS man keeps him a few states away. Then we have Santa Claus, who legally changed his name to fit his profession, though he also dabbles in the barbeque business and claims to be the inventor of the pulled pork ravioli. Unlike the soft-spoken Alex, Santa looks like he could stuff your head into your torso as easily as he stuffs pork into pasta, especially with that inked-up hammer of an arm he's got.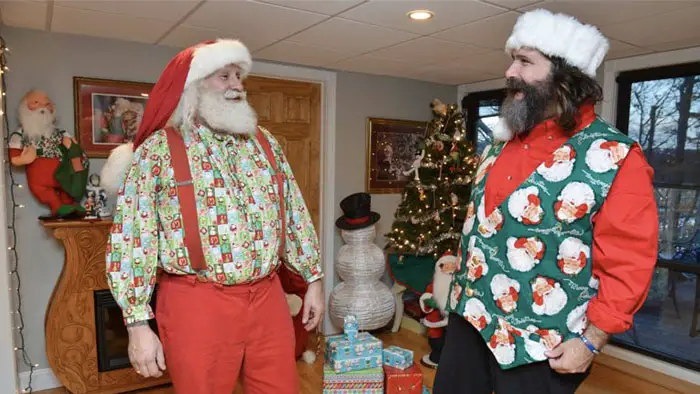 "…a handful of Santas, each of whom is a very different man behind the beard."
As great as they are, my favorite of the Santas is Russell, a simple, pastry-loving man of principle—won't even walk into a Walmart—looking to relocate to a trailer park lifestyle that will better suit his social security checks. The best part of the documentary is when Russell and Santa attend a meeting for the Fraternal Order of Real Bearded Santas, where the going gossip involves their new president being a member of the swinger community. Santa's of a live-and-let-live mindset, while Russell isn't so sure, delivering the immortal line, "John Stossel gets ahold of this, we're in trouble." During this time, we also get to see several Santas shoot the breeze in a parking lot, which, for some reason, I would like to see more of.
Taken at face value, this is deeply ridiculous stuff we're talking about. When looked at a little more closely… nope, still ridiculous. It's an extended version of when the cameras go off, and that baby lights up a cigar in Who Framed Roger Rabbit. But the ridiculousness isn't a gag, it's the truth. These aren't Billy Bob Thorton-types, raising hell between holiday seasons, picking up the prettiest girl at the food court. They're the salt of the earth, some of whom just happen to take homoerotic photographs for their fellow bears.
The surreal comedy of a man going out of his way to take on the characteristics of a fictional character, all while struggling with his non-Christmas pursuits and the mundanity of the job's backdoor politics, never wears out in I Am Santa Claus. Whether it's Russell's frequent pitstops for food during a road trip, Mick Foley's (former pro wrestler) meeting with a Santa veteran who boasts a B.A. in Santaclausology, or a devout Christian Santa who attends what appears to be Santa-themed sermons, all of these folks operate in invisible channels of society that I would like to see more of. It doesn't make any sense, but everyone's acting like it does, and they seem to be enjoying themselves.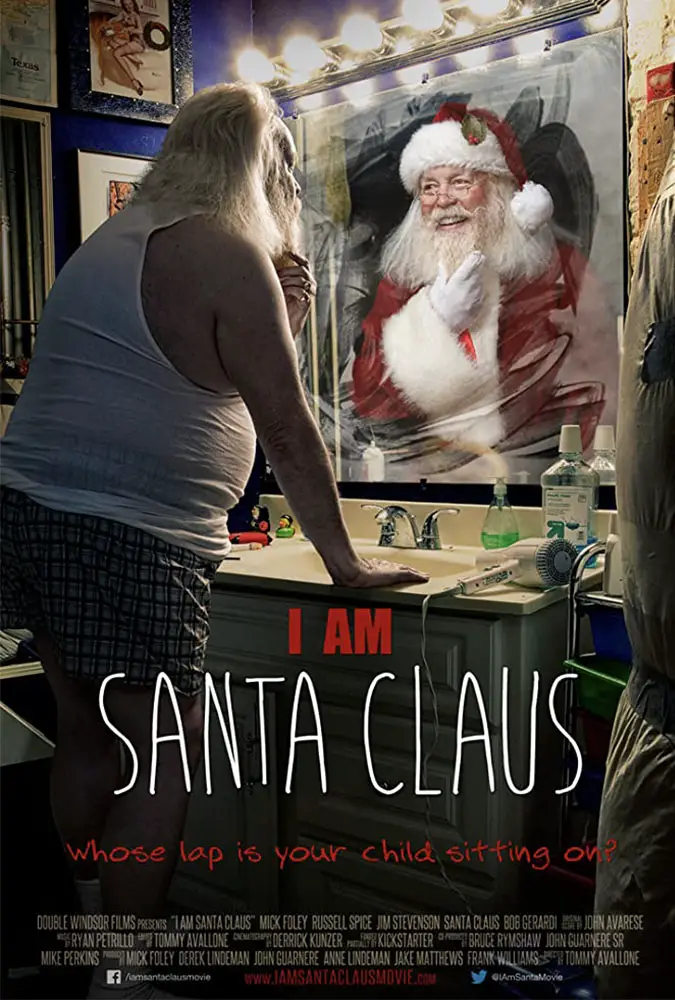 "…where do the real-life Santas go?"