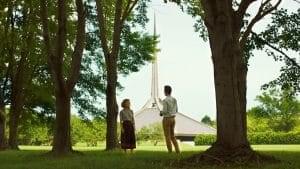 Video essayist Kogonada makes his directorial debut with Columbus, an intimate but meandering and uneven walking-and-talking story about life, regrets and a great deal of architecture.
Casey (Haley Lu Richardson, of last year's The Edge of Seventeen) is a recent high school graduate, who is kind of stuck in her town of Columbus, Indiana. She works at a local library with a co-worker who has a crush on her (played by Rory Culkin). Casey hasn't thought much about going to college because she feels she has to stay in Columbus to care for her mother (Michelle Forbes), a recovering addict.

You can see it in Casey's eyes that she wants to explore the world but has convinced herself she's content staying in Columbus. She is an architecture aficionado with a vast knowledge of what her little town has to offer. One day, she meets the son of a renowned architect, who she actually had plans to hear give a speech in the coming days. Jin (John Cho) comes back to town to be by his ailing father's side.
"…occasionally effective in its quietness but other times it can prove to be a bit alienating."
Jin wants to be anywhere but Columbus. His relationship with his father is strained and he has outgrown the town. He finds solace in his friendship with Casey. Despite their age difference, there is a sense of intellectual equality between the two, which opens up their conversations to much more than buildings.
Columbus does shine in some intimate moments between Jin and Casey or Jin and his father's protegee (Parker Posey). Kogonada wisely keeps the relationship between Jin and Casey platonic, which gives us the sense that that these two have been looking for each other to fill their loneliness for some time. It allows Cho and Richardson chances to deliver some strong work.
Barely ever making it an octave above a whisper, Columbus is a muted examination on life and longing, which creates some strong moments without ever really adding up to anything substantial. The film will surely serve as a calling card for Kogonada's filmmaking career but his first feature merely shows us what he is capable of rather than a deeply felt experience.
Columbus is occasionally effective in its quietness but other times it can prove to be a bit alienating. Even with a mixed reaction, I look forward to what Kogonada does next.
Columbus (2017) Directed by: Kogonada. Starring: John Cho, Haley Lu Richardson, Michelle Forbes, Rory Culkin and Parker Posey
Grade: C+