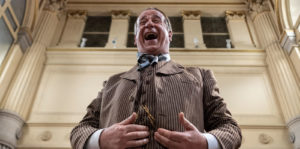 The King of Laughter (Qui Rido Io) takes us into the golden age of stage and cinema, where actors were treated like deities, and you'd shell out every lira you had to watch one brilliant story after the other. Written by director Mario Martone and Ippolita Di Majo, the film tells the story of the famed stage actor and comedian Eduardo Scarpetta (Toni Servillo). It's the beginning of the 20th century, and we find ourselves at the Neapolitan theater in Belle Époque Naples, where we see the grand master at work performing one of his plays. The man had his hands in everything from writing, directing, and acting, and the crowd is eating it up.
At home, Eduardo lives the bohemian life of an artist. His success in the theater allows him to live lavishly, way beyond merely providing for his wife, Rosa (Maria Nazionale), and their two children. But theater remains Eduardo's first love, and his children, whom he insists follow in his footsteps, always take a back seat. To complicate his family life even further, Eduardo has separate families with two other women in the company. In fact, one of his illegitimate children is named Eduardo as well. These affairs are no secret to anyone, including Rosa and his eldest offspring.
In the second act, The King of Laughter follows two paths. The first is Eduardo's involvement in a lawsuit with famed dramatic poet Gabriele D'Annunzio (Paolo Pierobon). One night Eduardo saw one of D'Annunzio's plays and thought he would write a parody. After a handshake agreement, Eduardo proceeded to produce the play. Unfortunately, the play fell apart in its first performance, and D'Annunzio has now decided to sue Eduardo for criminal plagiarism, the first lawsuit of its kind.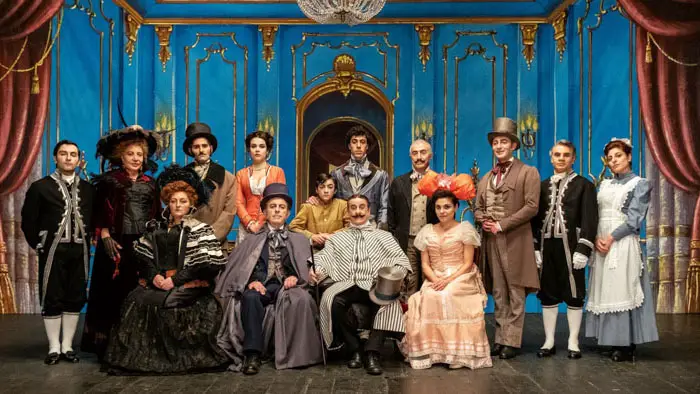 "…theater remains Eduardo's first love, and his children, whom he insists follow in his footsteps, always take a back seat."
The second path follows Eduardo's personal life spiral trying to manage not only a popular theater company but three families. To his children, corporal punishment was the easy way to gain obedience. However, his oldest son, Vincenzo (Eduardo Scarpetta), wants to forge his own path in music. This idea is instantly shut down by his father, who urges him to act.
First, I didn't know The King of Laughter was a biopic, partly because the narrative plays out so well. Thankfully it's void of those "then this happened" moments and feeling like several scenes from the subject's life. Instead, what we get is a complete character profile. Eduardo embraced the trappings of being an artist, including using others for professional, financial, and sexual gain, all the while being the toast of the town.
The King of Laughter is a big-budget production from Italy. The turn-of-the-century city streets are breathtaking, the Neapolitan theater is ornate, and the performances are top-notch across the board. Servello gives a brilliant yet nuanced performance. His emotional range is astounding, considering he's playing an almost Charlie Chaplin-like character in terms of the character being a shrewd businessman and, like a good artist, a lover as well.
That said, the two-and-a-quarter long runtime feels long. And the theater's opening scene introduces many characters, which makes it hard to follow from the start. But what The King of Laughter is ultimately about is a man desperately trying to solidify a legacy that's slipping out of his grasp and the desperate attempts to secure it. It's too easy for Eduardo to simply lives the life of an actor rather than take on the responsibility of fathering a lot of children… a lot of children. Martone and Di Majo explore just what legacies are worth pursuing.
For screening information, visit The King of Laughter page on Film Freeway.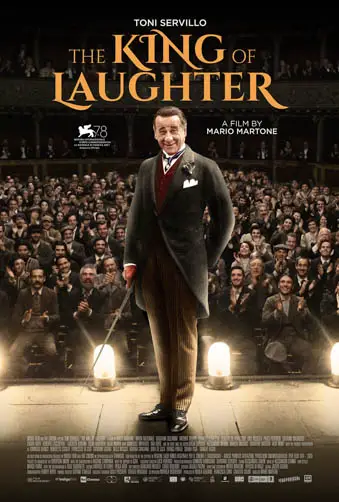 "…Martone and Di Majo explore just what legacies are worth pursuing."