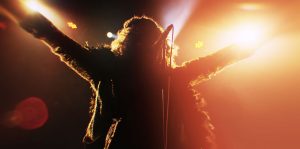 Most of us harbor grand ambitions when we're young. As we get older, they gradually become more grounded and pragmatic. "Being an astronaut" morphs into "working for NASA," which in turn becomes "being a part of an IT department at [insert major conglomerate here]." The middle-aged protagonist of Jared Barel's The Incoherents decides to try and reverse that current, taking a bold stab at a second chance. The low-key film, while entertaining, could've used some of his boldness.
Bruce (Jeff Auer, also the film's screenwriter) used to be in an early-1990's rock band called, you guessed it, The Incoherents. Bridging the gap between classical and punk rock, they were allegedly on their way to conquering the world, but then Bruce dropped out, favoring family life over sex, drugs, and rock'n'roll. Now he's stuck in a sexless marriage and a dead-end job, with only glammed-out, dream-like flashes of stardom (and asparagus) reminding him of what could have been.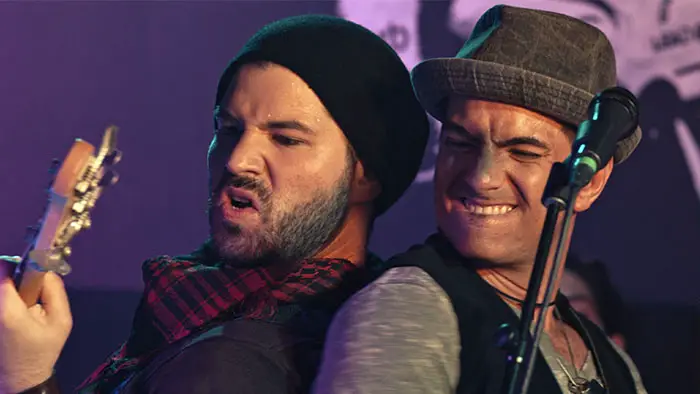 "…Bruce puts his band back together…"
"I cannot do it anymore," he tells his wife Liz (Kate Arrington). With Liz giving him the green light, Bruce puts his band back together: drummer Tyler (Casey Clark), prone-to-stress bassist Keith (Walter Hoffman), and barman Jimmy (Alex Emanuel), who still holds a grudge against Bruce for splitting them up in the first place. "It's time for rock and roll made by men," Bruce states. "Middle-aged men," Jimmy responds dryly.
They're off to a creaky start: practicing in a "rat trap" studio, performing in front of tiny crowds, messing up their tracklist. Enter rock guru extraordinaire named The Jules (Vincent Lamberti), who becomes the band's guide to potential fame. Jimmy also meets Debbie (Margaret Anne Florence), a promoter and blogger, who sort of puts them on the map, or at the very least, imbues them with hope. "An indie-rock phoenix rises from the ashes to play again," she states about of The Incoherents. Yet, can the aging performers adapt to the current social media-driven pop scene? And will Bruce's marriage survive the journey?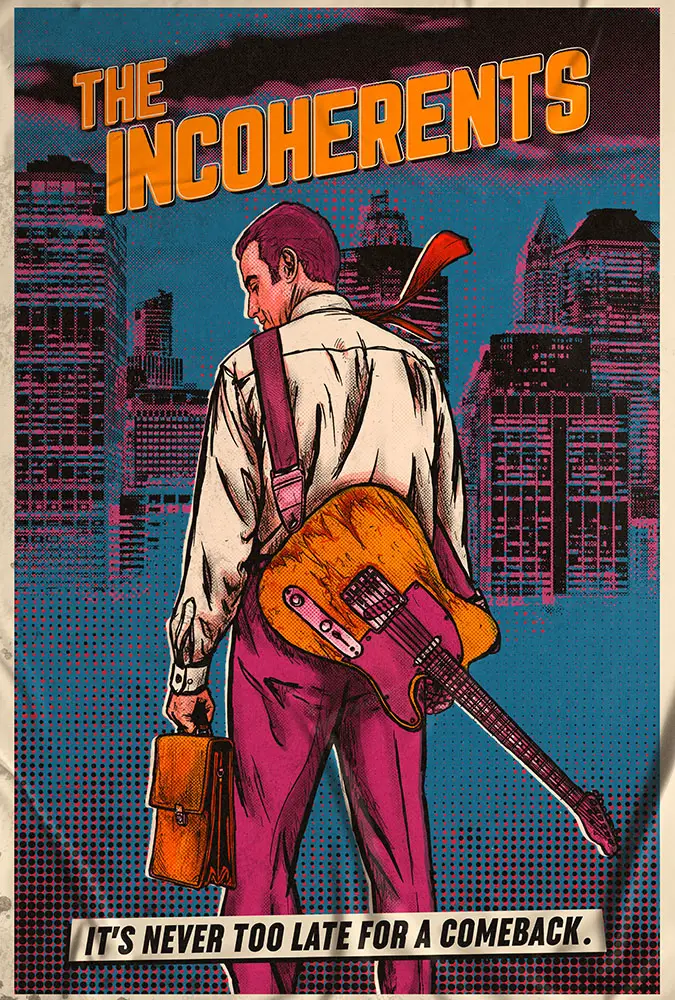 "…a by-the-numbers underdog story, bolstered by an infectiously joyous spirit..."