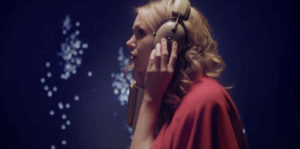 I have such great admiration for the story and ideas behind writer-director Jon McDonald's The Hyperions. I'm just trying to put my finger on why I didn't absolutely love this superhero tale about family. Happily, I think I figured it out.
The Hyperions is the story of a superhero family… of sorts. Mastermind Professor Ruckus Mandulbaum (Cary Elwes) developed a device known as the Titan Badge that alters the wearer's DNA, giving them superpowers and used to form a superhero team. In 1960, the first members of The Hyperions were teleporter Maya (Elaine Tan) and two young children, Vista (Penelope Mitchell), a mind controller, and Ansel (Alphonso McAuley), who has super strength.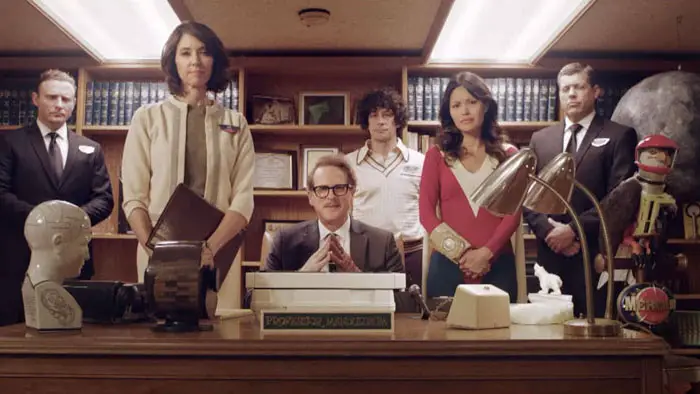 "…developed a device known as the Titan Badge that alters the wearer's DNA, giving them superpowers…"
The beloved team was the toast of the town fighting evil, but as children do, they grow up. The moment Vista and Ansel showed any sign of independence, the disappointed Mandulbaum took away their powers and recruited new children to replace them.
Jump forward twenty years, and Mandulbaum is recruiting his third iteration of the superpowered group and hosts a weekly Hyperion Club television show. Meanwhile, adult Vista and Ansel staged a not-so-stealthy heist of their Titan Badges from The Hyperion Museum. The operation almost works, except that access to the badges requires Professor Mandulbaum's fingerprints to release them. So Vista and Ansel take the museum staff hostage, forcing a confrontation with their former father figure.
There's a lot to love about The Hyperions. Along with a 60s quirky vibe, Elwes is a joy as Professor Mandulbaum. He created this character entirely from scratch as a slightly malevolent version of Walt Disney. Everything about his acting choices is a study in character development, including a slightly hunched posture, which questions the character's self-confidence as a leader. The way Elwes speaks says so much about the inner workings of Mandulbaum.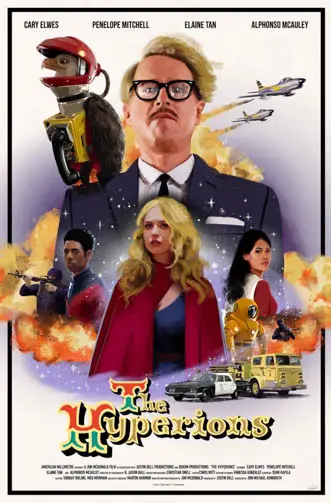 "…a good story once you understand what it is saying."