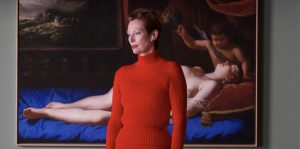 NEW YORK FILM FESTIVAL 2020 REVIEW! Spanish director Pedro Almodovar is a perennial favorite of mine, having created so many beautiful worlds in his films. The Human Voice is no different in that regard. The difference between this film and all of Almodovar's others is that it is mainly in the English language, as to where all his previous films were in Spanish. The Human Voice is a short film, coming in right at 30 minutes. But that does not matter because it is an extremely impactful half hour. The star in front of the camera for this thoroughly fascinating experiment is the inimitable Tilda Swinton.
The Human Voice is "freely based" on a play by legendary French provocateur, Jean Cocteau. With that being said, the content is subversive to a certain extent but certainly not the wildest of his writings, not by a long shot. Swinton plays a nameless woman who knows that she and her lover are about to separate. She is going through the grieving process of losing someone that she loves, which in reality and in the film, can manifest itself in strange ways.
At the outset of The Human Voice, we see Swinton's character in a Spanish hardware store, looking at axes, one of which she purchases. She then takes a handful of pills and is brought out of her unconsciousness by her lover's dog, Dash, licking her ear because the phone is ringing. The dog seems to know that it is his owner on the other end of the line.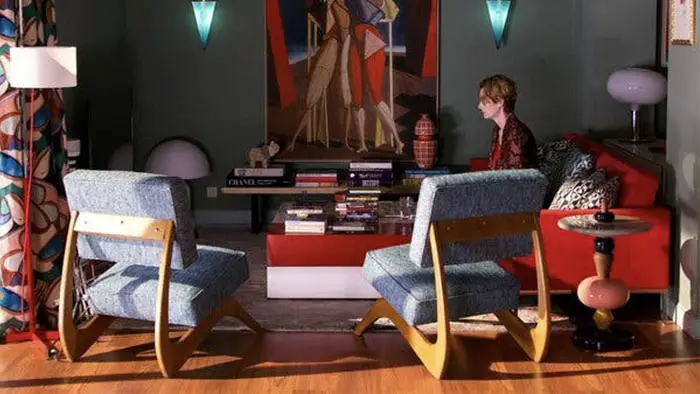 "…a nameless woman who knows that she and her lover are about to separate."
What happens next is one of the most beautiful long-form monologues ever committed to film. There is a heartbreaking beauty to the words that Swinton is saying to her now ex-lover. The set is also quite gorgeous. It is a lavish apartment with beautiful decor. What is interesting about this set is that we see the outside of it. Swinton often goes outside of the apartment onto the soundstage to sit or pace. It's somewhat reminiscent of Lars Von Trier's Dogville in that respect. I would say that production designer Antxon Gomez, who has worked with Almodovar on many films, is a total genius. Like all of the auteur's sets, this set is some of the most striking aspects of his films.
The cinematography by Jose Luis Alcaine, who, again, has worked on many Almodovar projects, is extraordinary. None of this is surprising if you know anything about Almodovar. It's just such a treat to see a 30-minute motion picture made by one of the world's finest living directors, starring one of the world's greatest actresses.
Please seek out The Human Voice as soon as you can. It is a short, shockingly beautiful exploration of the stages of abandonment. From start to finish, I was engaged and invested. I wish that the film was longer, but I understand why it isn't. I'm just glad it exists because it's amazing. Viva la Almodovar!
The Human Voice was screened as part of the 2020 New York Film Festival.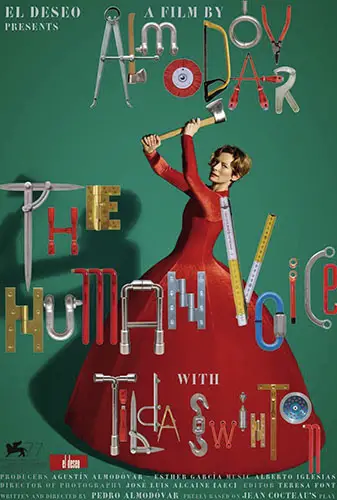 "…one of the most beautiful long-form monologues ever committed to film."