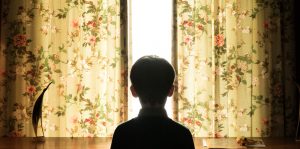 We were also impressed with Lee Cronin's wonderful visual sense. Recalling Neil Marshall's work in The Descent, we see a beautiful sense of visual symbolism with colors and composition. Cronin knows what he is trying to imply and we get a sense of it straight away while other things are more subtle.
Is Chris an imposter, will Sarah ever uncover the truth, and how is this all related to the ever-sinking crater in the nearby woods? I can say that this is an entirely fulfilling movie that takes folklore and applies modern logic. The Hole In the Ground surprised me, took me on a fun ride, and returned me, almost unshaken. This was a brilliantly satisfying monster movie.
The Hole in the Ground (2019) Directed by Lee Cronin. Written by  Lee Cronin, Stephen Shields. Starring Seána Kerslake, James Quinn Markey, Simone Kirby, Kati Outinen. The Hole in the Ground screened at 2019 Sundance Film Festival.
7 out of 10 stars