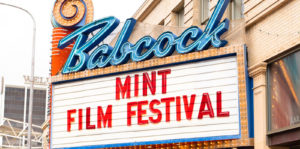 For many who enjoy a fall event, especially an authentic independent film festival, Billings, Montana, is a ticket to keep in mind. It's not only affordable, enjoyable, and a Montana experience that only exists in autumn; it is an event in a town that will linger in your thoughts for weeks beyond. The MINT Film Festival is a unique event that Founder and Executive Director Brian Murnion continues to build with great passion and planning, always offering something new from the community and its surroundings, along with independent filmmakers and creatives beyond Montana.
Presented by the Montana Film Office, an entity that supports independent film and filmmakers with great care and importance, MINT's new Program Director, John C. Koch, along with documentary programming by Greg Hamilton, have orchestrated the 2023 MINT lineup to present more than 40 films from eight countries with live Q&As with directors and special guests.
It's an exciting list, considering the level of filmmaking that is part of this year's event, which takes place September 21-24, 2023, in downtown Billings, with films screening at the historic Babcock Theatre. Also at the Babcock will be Q&A sessions with filmmakers, actors, and producers, where attendees can gain insights into the creative processes behind the films. In addition to screenings and Q&As, there are workshops, parties, and community engagements for all to enjoy beyond the screenings, including "Documentary Storytelling," led by acclaimed documentary director and editor Maureen Gosling, and "Directing Actors," a collaborative effort led by director John Dahl and actor Bill Pullman.
A known Montana resident, actor Bill Pullman will be part of a special evening on Saturday, September 23, and will be present for screenings of two iconic films—The Last Seduction, directed by John Dahl, and Lost Highway, directed by David Lynch. Pullman will share his perspectives in a Q&A session alongside director John Dahl for The Last Seduction, followed by his introduction to Lost Highway. This double-feature presentation is set to be a highlight of the Festival. In addition, director John Dahl, who grew up in Montana and has supported MINT since its launch, has attended almost every festival, bringing his perspective from decades as a working film and television director.
Opening night, on Thursday, September 21, is an exclusive North American sneak peek screening of the "Made In Montana" feature film Tokyo Cowboy, directed by Marc Marriott, who will be present along with the film's producer, cast, and crew for the premiere. Tokyo Cowboy is about a Japanese businessman who goes on an unwitting journey of self-discovery when he takes a company trip from Tokyo to a Montana cattle ranch.