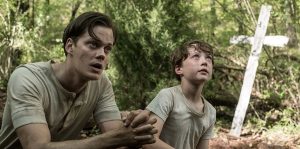 Antonio Campos takes an abrupt left with his follow up to his extraordinary and well-received movie Christine, with The Devil All the Time. It takes place in a quiet, picturesque rural community from the past that you might label Southern Gothic if it wasn't in the northeast. Everyone's forehead is perennially damp, and "the lord" is referred to casually like he's a member of the town that everyone thinks very highly of. Despite this outward piety, most of the characters have an errand boy relationship with God. It's an "I'll go to church every Sunday for the rest of my life if you just make Suzie like me" haggle-based rapport, like God's a street vendor in Egypt.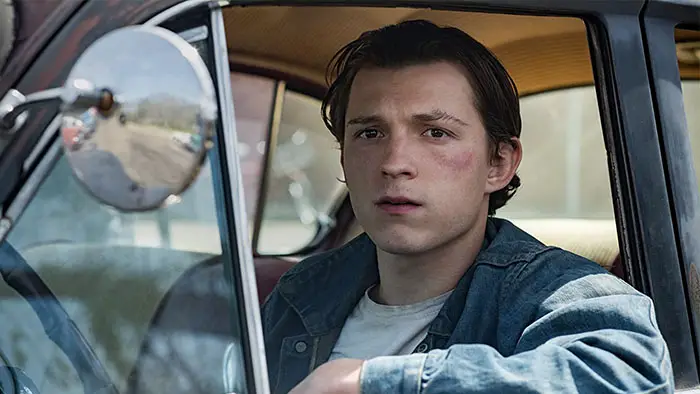 "…Willard comes home from WWII… falling in love with a pretty waitress and having a son…"
But as the title suggests, there might be another omnipotent force in town with a bit more of an influence. It all begins when Willard (Bill Skarsgård) comes home from WWII, bringing with him some backbreaking emotional baggage. His load is lightened—for the time being—after falling in love with a pretty waitress and having a son, Arvin (Tom Holland). Arvin takes the lead in this tapestry of generational tragedies and might be the only one who can interrupt the ever-accelerating evil ignited before his time.
If you didn't know beforehand, you'd quickly realize The Devil All the Time is based on a book. With the large cast, entangled plotlines, and time spanned, it's obvious that Campos is trying to cram an elephant into a child's XL. Because of this, the story feels a little rushed and isn't quite as immersive on a character level as his previous movies. However, what the film lacks in character immersion is nearly made up for in campy, backcountry melodrama, and atmosphere.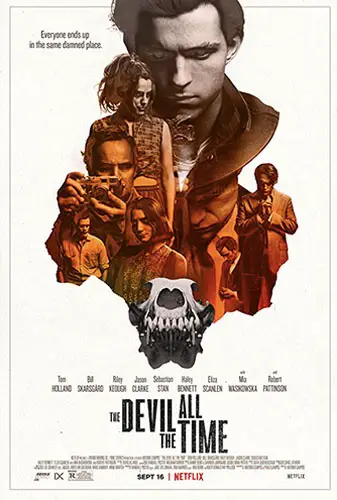 "…a little emotionally exaggerated and too finely arranged, but then something startling..."