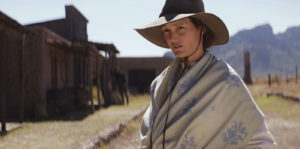 TORONTO INTERNATIONAL FILM FESTIVAL 2023 REVIEW! The Dead Don't Hurt, Viggo Mortensen's second film as a writer-director, is a curious beast. It defies and subverts traditional tropes of the western, almost deconstructing it in the same way Unforgiven did. Yet it manages to fit solidly into the genre, too.
One of its nontraditional aspects is that it is told somewhat non-chronologically. We start close to the end — 1860s Neavada. Holger Olsen (Mortensen) watches his wife Vivienne (Vicky Krieps) on her deathbed. Meanwhile, a figure clad in all black shoots up the town. As Olsen buries his wife, we see he's got a son, and he's the sheriff. The mayor rides up to tell Olsen one of his deputies has been shot by the villain, and we see that the two don't quite get along. So far, we've got the classic setup, good vs. evil, and everyone is afraid of the man in black except for our hero.
But this is where The Dead Don't Hurt diverges from traditional tropes. We flashback to Vivienne's previous relationship in San Francisco and her childhood in French settlements in Canada. Then there's a somewhat linear progression as we see her meet Olsen, and their life together is filled in.
"…the brutality of life in the West for women…"
Mortensen's drama is being called a "feminist western." That might evoke lady gunslingers or some other Hollywood fantasy, but the film is too intelligent for that. Instead, it is going for period accuracy. It dares to tell the story of the brutality of life in the West for women, an area that has been criminally unexplored in cinema. The world may still be ruled by men today, but imagine a life with little law, one ruled almost entirely by guns, and one where women are only allowed in a few narrow roles and jobs.
Once you see a woman who is more than simply a background character or a love interest in a western, you have to wonder, why hasn't that story been told before? The Dead Don't Hurt shows how those struggles resonate perfectly with so many struggles today. As writer and director, Mortensen deserves a huge amount of credit for, I hope, changing westerns for the better going forward.
The acting is another high point, at least in the more fleshed-out roles. Krieps gives a stellar performance. She carries much of the movie, including scenes in French and English. Mortensen is exactly what you'd expect: taciturn yet intense, albeit with a slight Danish accent. Even still, I was even more excited about the supporting cast, which features several Deadwood veterans, including Garret Dillahunt, W. Earl Brown, and Ray McKinnon. If you're going to make a western, why not borrow from the best? Those three nail every scene they are in and leave us wanting more.