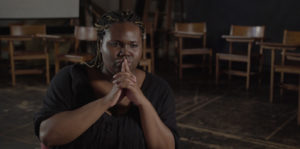 For us mature folks, it's easy to poke fun at Millenials… and worse, the theater community. Zora Iman Crew and Alec Tibaldi find a way to not only satirize them but strangely uplift both as well in their feature comedy, The Daphne Project.
Crews is Daphne, an actress and social media influencer who has managed to inject herself into an off-off-Broadway production of Euripides' The Bacchae. She is full of optimism and life, and with a calling to be her best self, she's going to take the theater by storm.
My best description for The Daphne Project is that it's The Office but for the woke millennial theater community. But, before you take a pass, I appreciate its honest take on the positives and negatives of that community. Like that popular sitcom, there is a documentary crew covering the rehearsals of The Bacchae. The film shows heightened moments of the rehearsal process and then cuts to talking head testimonials by Daphne and the other actors. Daphne is front-and-center in the Michael Scott position with one foot forward and the other in her mouth.
Our story begins on day one of the rehearsals. Daphne arrives late because you should always arrive late on the first day. Director Phineas (Reed Lancaster) and his assistant, Joanne (April Lavalle), are in a panic because she was not cast for this production. We soon find out that Daphne saw Phineas' play did not have any BIPOCs, so she decided to fix the problem by casting herself.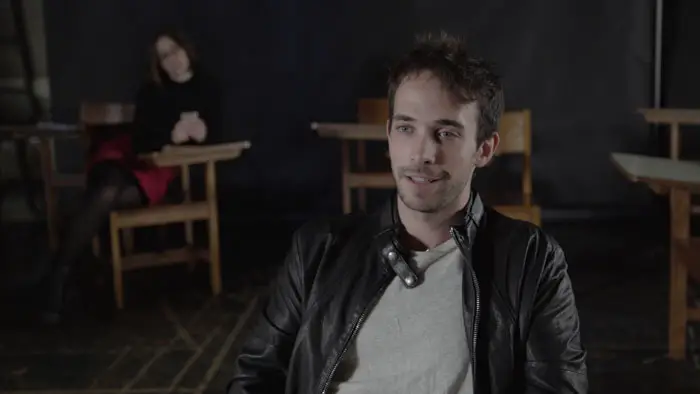 "…an actress and social media influencer who has managed to inject herself into an off-off-Broadway production…"
Before you know it, Daphne begins to wreak havoc. She becomes the center of attention during warm-up exercises, blatantly compares the lack of experience of fellow cast members with herself, and exposes acts of #MeToo-ing from the show's lead, Dylan (Duncan Menaker), and director Phineas. She even makes an awkward faux-pas with her Filipino castmate.
If you enjoy cringe-comedies, you're going to love and loathe (in a good way) The Daphne Project. Though the film is shot like The Office, the comedy leans more toward Curb Your Enthusiasm, if Larry David was a black social justice warrior. Writer/director/star Zora Iman Crews is almost too perfect as the narcissist Daphne. Perfect because for us older folks, she represents everything we find annoying about millennials and the woke, but brilliant because she's crafted the perfect character in Daphne to evoke those feelings. My warning is don't shut the film off; wait to see what unfolds.
Don't get me wrong. Though Zora and the rest of the actors and crew are poking fun at Millenials, this is not an indictment of this progressive community. The Daphne Project points out the self-centered quirks that come out of wokeness. Daphne is not the only person using the production of The Bacchae to bolster their career, but everyone is in their own selfish ways. Can this troupe of actors somehow pull their act together and act together?
My only complaint is that as much as it wants to be The Office, there's only one Office (technically two), and those are pretty big shoes to fill. When the humor pokes fun at Millenials, it feels more like commentary/observations rather than satire. In other words, the punchlines needed to land harder. Don't get me wrong, there are hilarious moments, but you'll be smirking more than laughing out loud.
With a wonderful performance by Zora Iman Crews, there is fun and insight to be mined in The Daphne Project.  
The Daphne Project is currently screening in New York and will be found on Fuse+ later this year.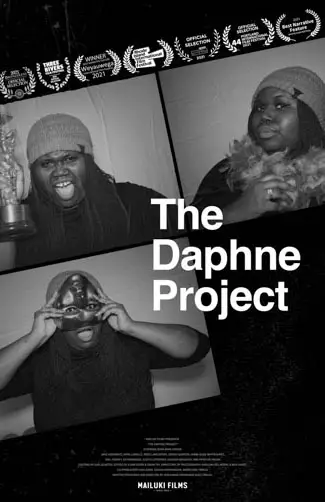 "…a wonderful performance by Zora Iman Crews..."