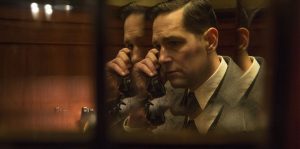 Berg is now a real-life James Bond. His mission is to sneak into Nazi Germany and investigate Heisenberg's progress in developing the bomb. He is teamed up with Samuel Goudsmit (Paul Giamatti), member of the Manhattan Project who hooks him up with Heisenberg's colleague, Paul Scherrer (Tom Wilkinson). Both men understand the ramifications of Hitler having a nuclear weapon but are hesitant in helping Berg with his mission, especially if Heisenberg is nowhere near constructing the weapon.
Adding to Berg's complicated life is his sexuality. Berg has a long-time girlfriend in Estella Huni (Sienna Miller). She provides him with loyalty, love, and support, but Berg is unable to make the ultimate commitment. On several occasions, his sexual preference is called into question: in the Red Sox locker room, an overnight encounter with Kawabata, and a point-blank confrontation with the OSS director Bill Donovan (Jeff Daniels). Donovan's response to Berg's non-answer to the question, "Are you a f*g?" is essentially don't-ask-don't-tell. Let's just say his secret turns out better for Berg than it did for Alan Turing.
"…commits the mortal sin of taking a great story and great cast and producing just a good film…"
The Catcher Was a Spy really should be more of an exciting movie than it is. Don't get me wrong, it's a good movie. The story is true, Berg is an intriguing person, who's moral conflict leads to a great deal of drama and tension by the end. Also, how can you lose with a cast that includes Mark Strong, Jeff Daniels, Paul Giamatti, Sienna Miller, and Tom Wilkinson? The film feels more like a pitcher's duel than a high scoring hit fest.
I suppose some biographic films are made for posterity sake. While I would never have known about the role Moe Berg played in winning World War II, The Catcher Was a Spy commits the mortal sin of taking a great story and great cast and producing just a good film, never soaring to the heights of any kind of greatness.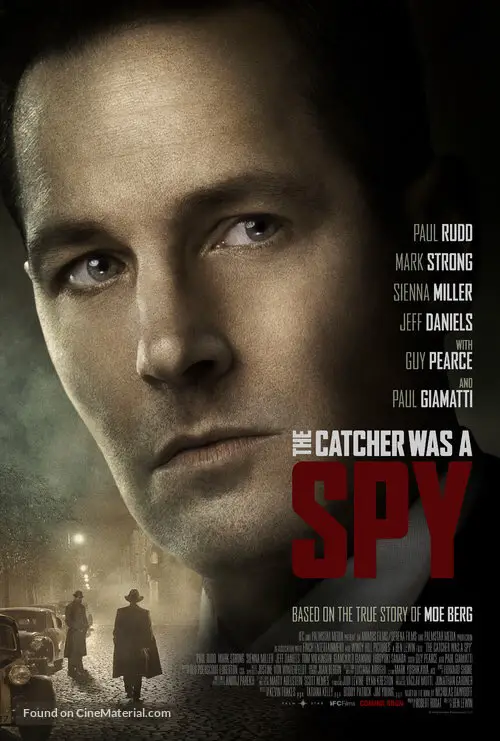 "…made for posterity sake."