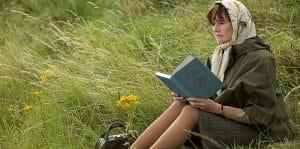 The adaptation of Penelope Fitzgerald's 1978 novel The Bookshop by Spanish director Isabel Coixet (My Life Without Me, Elegy, Learning To Drive) is not devoid of plot disturbances but provides fair moments of gorgeous filmmaking and acceptable entertainment.
Emily Mortimer embodies Florence Green, a merry, patient, and bighearted thirty-something widow who decides to open a bookshop in the small English town of Hardborough, Suffolk. The idea, however, didn't please the powerful Violet Gamart (Patricia Clarkson in her third collaboration with Coixet), who already had her own plans for the abandoned historical Old House, now Florence's home and place of work. Moved by an atrocious condescension, Violet starts to harass Florence, using her political influence and strengthen by the passage of a bill that allows her to take possession of the Old House if a philanthropic project is considered. Since the beginning, it has been her intention to transform the place into a modern art center, where she could program art lectures and chamber music for the local high society.
"Violet starts to harass Florence, using her political influence…to take possession of the Old House…"
If you think Florence is alone in this battle, you're mistaken. Strangely, her loyal allies and best friends happen to be Christine (Honor Kneafsey), a talkative young girl who finds the boys repulsive and is hired as her assistant, and the enigmatic Edmund Brundish (Bill Nighy), an avid reader who lives secluded in his mansion after the death of his wife, a motive for speculation among the inhabitants. Without leaving home, Brundish buys her modern books, including the progressive Fahrenheit 451 and the polemic Lolita, both considered audacious for the time. The transactions and correspondence are established through a young local messenger.
Florence's intellectual openness and disarming modesty – she can really feel uncomfortable in a deep maroon dress – attract Mr. Brundish, who sacrifices his comfortable isolation to intercede in her favor. On the contrary, the lazy, scornful, and opportunist Mr. North (James Lance) takes advantage of her benevolence, stabbing her in the back at the first opportunity.
Everything is systematic and structured yet flowing, with lilting jazz standards playing in the background whenever the narrator, whose recurrent presence is contestable, points the direction. Anyway, it was the courage of the good characters that made me enjoy this flawed drama film. With Clarkson embracing a more modest role, Mortimer and Nighy deserve the acting spotlights. In her polished yet non-elaborate style, Ms. Coixet did enough to win the categories of Best Director, Best Film, and Best Adapted Screenplay at the Spanish 32nd Goya Awards.
The Bookshop (2018) Written and Directed by Isabel Coixet. Starring Emily Mortimer, Bill Nighy, Patricia Clarkson, James Lance, Honor Kneafsey.
6 out of 10