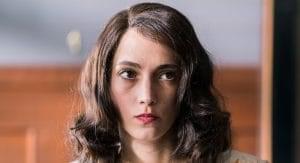 On her attempt to flee the Nazi round-up in Norway, Esther finds herself alone, on an occupied farm, forced to conceal her identity. This leads to a series of choices and consequences that shift the paths of those around her. 
I was excited to see Ross Clarke's historical thriller The Bird Catcher. Set in Norway, the film promised an intriguing, under-represented perspective of the Nazi occupation during WWII. Within the first few moments of its sappy narrative, my heart sank. Despite blatant earnestness and gorgeous imagery, The Bird Catcher's lunkheaded cross-dressing plot, along with a European cast struggling with dopey lines, quickly tilts the whole thing into "wtf" territory, where it remains for 90 minutes. In other words, if you're expecting a WWII-set Albert Nobbs or Shakespeare in Love, look elsewhere.
Set in Trondheim, Norway, 1942, Clarke's film follows Esther (Sarah-Sofie Boussnina), an aspiring actress with plans to move to America. Her father, a Jewish barber, resolutely barbers away, as Nazis start executing his fellow people. They eventually get to him, so Esther grabs her beloved parrot and bails – except the parrot doesn't quite make it (squawk!). After riding in the back of a truck, plunging face-first into a freezing river and roaming through a wintery forest, she stumbles onto an occupied settlement, overrun by evil Nazi Herman (August Diehl).