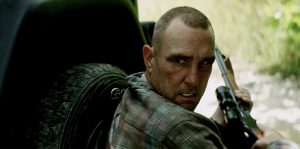 The motion picture industry was still relatively young when filmmakers first exploited the concept of revenge for hard-edged cinema. As Sergio Corbucci's revisionist spaghetti western The Great Silence, Sam Peckinpah's psychological thriller Straw Dogs, John Flynn's neo-noir Rolling Thunder, and Jennifer Kent's unsparingly cruel screed on violence and historical injustice The Nightingale signify that revenge-driven tales can be part of any genre.
Such stories, like Scott Wiper's action-thriller The Big Ugly, follow a precise template: guided by ire and rancor, the grief-stricken protagonist, who either lost somebody close to them or were gravely wronged, ventures through hostile terrain in search of retribution.
The film opens in a West Virginia forest, as Neelyn (Vinnie Jones) is covertly trudging through the woods with a rifle. Labored voice-over coincides with Neelyn's cryptic trek through the woods: "God. Land. Oil. It's often said war is waged over just these three." From a distance, another rifleman sets his sights on Neelyn, and a gunshot rings out.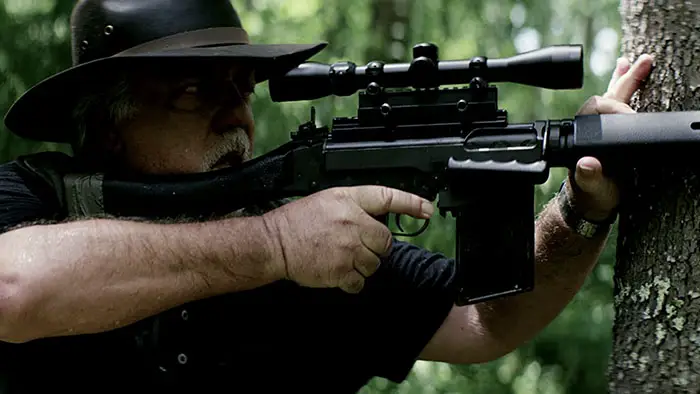 "…Neelyn will obtain vengeance for what happened to Fiona."
Then we're transported back to the past where Neelyn, along with crime boss Harris (a compellingly subdued Malcolm McDowell), is preparing to leave London and fly to West Virginia, with 25 million quid. Harris plans on investing in a West Virginia oil deal with American businessman Preston (Ron Perlman), in hopes of laundering dirty money. At first glance, Neelyn is enigmatic and reserved, drinking alcohol to numb the pain of what he's tasked to do as the crime boss's enforcer — a profession that entails no empathy, no hesitance, and a prolific body count. 
If it weren't for the voice-over, it would be impossible to read Neelyn. That being said, Neelyn does let his guard down with Fiona (a lovely Lenora Crichlow), his loving and self-possessed girlfriend. On the plane, Neelyn is sitting face-to-face with Big James (Stephen Marcus), one of Harris's consultants, and he appears immensely flustered. An astute Fiona can certainly tell something's off, and Neelyn knows that Harris heard Big James vehemently denounce Preston. So, as predicted, Neelyn has another body to add to his never-ending list.
When we first meet Preston, he's confronting a rowdy group of White Supremacists, calling them out on their failures. "Cause I believe in winning or losing, and a real man knows how to do both with dignity. You wanna fly a flag, go win something." The plane lands not too much later.
After finalizing their deal, everyone goes to celebrate at a local bar. In the midst of whiskey and flirting, Fiona helps Neelyn back to his room, where he passes out drunk. The next morning, Neelyn can't find Fiona. She was last seen with Preston's capricious and intractable son Junior (an eerily sly Brandon Sklenar, who alternates between moods on a whim). Against all the odds, Neelyn will obtain vengeance for what happened to Fiona.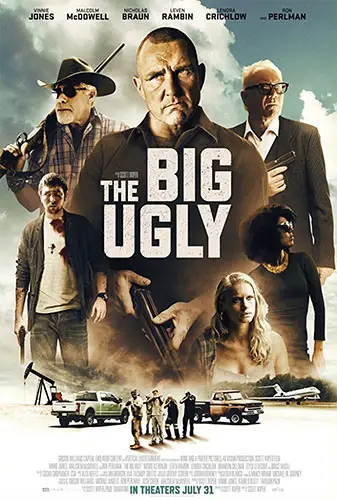 "…fully exploits its West Virginia setting."