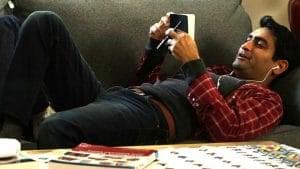 Michael Showalter's The Big Sick was written by real-life couple Kumail Nanjiani and Emily V. Gordon about how they met and the rather unorthodox genesis of their relationship. It all may see like an opportunity for silly gags and fish-out-of-water moments but The Big Sick is something more. It's something special.
It's so rare, sadly, to find a film oozing with humor and heartbreak, truth and perception. There is never a feeling Nanjiani and Gordon looked at each other one day and said, "Remember when we met? That was crazy. Let's make a movie." What they went through was sad and sweet and they opted to tell their story, in the hopes of making someone in a similar situation feel less alone.
Nanjiani stars as, well, Kumail. He is an aspiring stand-up comedian, who meets Emily (Zoe Kazan) after she heckles him in the nicest way possible during one of his acts. They meet-cute, spend the night together, share an awkward Uber (Kumail is the driver because aspiring stand-up comedians don't make much money) and continue to say they won't see each other again. She is a therapist, working on her Master's and doesn't have time to date and he's not really into dating, either.
"It's so rare, sadly, to find a film oozing with humor and heartbreak, truth and perception…"
Kumail and Emily, despite half-hearted attempts, can't stay away from each other. They begin dating, which would be fine if Kumail's parents (Anupam Kher and Zenobia Shroff) weren't trying to set him up in an arranged marriage, as part of their traditional Pakistani culture. Kumail loves his family; he respects them but he has no interest in their preordained future for him.
So, unfortunately, Kumail keeps his relationship with Emily quiet. As expected, this causes a wrinkle in their new courtship, which is made even worse when Emily suffers a mysterious medical incident, ultimately placing her in a medically induced coma. Kumail chooses to spend the next several days in the hospital waiting room with Emily's parents (played terrifically by Holly Hunter and Ray Romano), getting to know them, warts and all.
The bulk of The Big Sick is spent at the hospital, delivering some moments of cringe-comedy as Kumail and Emily's parents become more acquainted. Hunter brings a firecracker force as Emily's mom Beth and Romano is so subtly moving as the world-weary Terry. He is given quiet moments to shine, in ways we were never sure Romano was capable of doing.
"The film earns its silly and sweet moments just as much as all of the serious…"
Kazan delivers one of her stronger performances but The Big Sick remains Nanjiani's film. He has been an actor for some time and one of those people you recognize from that thing. In the matter of one movie, Nanjiani has done what most actors wish they could do – wrte themselves to stardom. He is no longer that guy from that movie. He's a bona fide actor.
Walking out of The Big Sick my critic brain took over and thought "Was that too long?" or "Did we need so many stand-up routines?" Quickly, those thoughts were shut down. Here is an original film, with two writers giving us their story about their struggles and love and dedication for one another. We should be grateful a movie like The Big Sick is out when everything is reboots and sequels.
The film earns its silly and sweet moments just as much as all of the serious. It deserves to be the surprise hit of the summer, which it's on its way to being.
The Big Sick (2017) Directed by Michae Showalter.l  Written by Emily V. Gordon and Kumail Nanjiani. Starring Kumail Nanjiani, Zoe Kazan, Holly Hunter, Ray Romano, Anupam Kher and Zenobia Shroff
Grade: A-