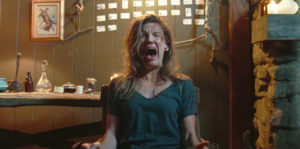 IN THEATERS AND VOD! Director Colton Tran's The Bell Keeper begins like one of the C-grade slashers at which the excellent The Cabin in the Woods pokes fun. Brittany (Kathleen Kenny), Liam (Reid Miller), Matthew (Mike Manning), Holly (Cathy Marks), Gabriel (Capri-Antoine Vaillancourt), and Megan (Alexis B. Santiago) are filming a documentary about creepy places in the United States. The group of young and attractive stock characters arrives at Lake Bell, where there is a rumor that a murderer appears if one rings an old bell at midnight. They, of course, ring the bell, and one can guess what happens next.
After a brutal opening scene, the horror film takes its time setting up the story lore and plot pieces. The first act drags and seems to take up almost half of the film. As usual, boxes are checked off. The friends get advice at a dilapidated gas station, come across a woman who will clearly be a final girl, joke about genitalia and virgins, and so on.
Just when I was beginning to wonder if The Bell Keeper had anything new to add, the script by Joe Davison and Luke Genton throws the audience a curveball during the midpoint. A killer wielding an axe – amusingly named Hank (Randy Couture) – arrives after the bell is rung, but his purpose is given a fresh spin. I won't spoil how, but this becomes less of a slasher and more of a different type of horror film after this point.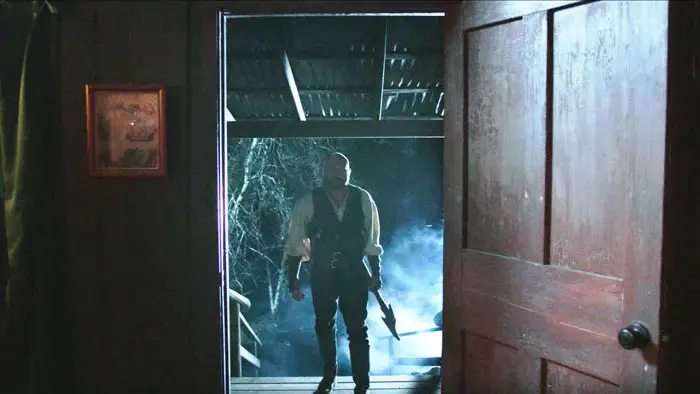 "A killer wielding an axe arrives after the bell is rung…"
The screenwriters rely on exposition dumps too often. The dialogue is sometimes childish, and the tonal shifts from scene to scene cause whiplash. That said, Genton and Davison also have fun subverting expectations in the second half and, in turn, offer a few exciting surprises. Hank is actually an interesting character with some depth and not just a man behind a mask slaughtering teens, though he does do his fair share of killing. The cast is clearly having a good time with the material, with Miller leading the way. The acting can be hit-and-miss from these players, but no one completely drops the ball.
Unfortunately, Tran fails to execute all the cleverness waiting to be delivered in the script. His staging is often perfunctory, and The Bell Keeper offers little in terms of building suspense. He also falls back on cutting away or using poor CGI instead of letting the blood flow with practical effects at times.
Despite its many flaws, The Bell Keeper offers an enjoyable horror ride for undemanding genre fans. There are enough thrills and twists in the second half to make it worth recommending to slasher junkies. Just don't expect it to completely change up the formula like The Cabin in the Woods did.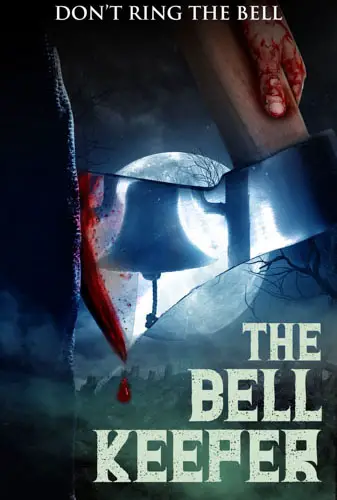 "…offers an enjoyable horror ride…"