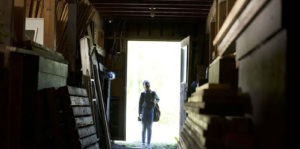 31ST ARIZONA INTERNATIONAL FILM FESTIVAL REVIEW! The outstanding Canadian alien invasion movie The Beehive, from writer/director Alexander Lasheras, follows grade school-age Rosemary (Meadow Kingfisher). She finds two dead bees on her window sill and films a news report where she describes the horrible traffic accident that killed them. She then finds and films a beehive by her house. Next, Rosemary discovers an even bigger beehive in the woods. She excitedly tries to show her family the footage.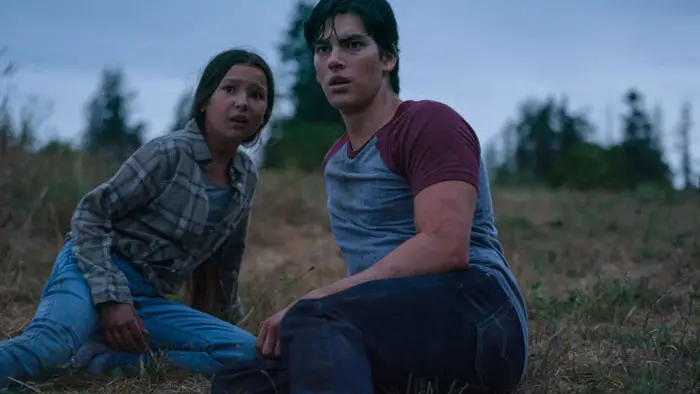 "Rosemary starts to believe that maybe it isn't a beehive after all."
Unfortunately, dad Frank (Stephen Jf Walker) is wrapped up in conspiracy videos about recent comet activity. At the same time, older brother, Aaron (Kaydin Gibson), is still sullen a year after their mother's death. Aunt Zoe (Aleen Sparrow) arrives to take Rosemary for a campout. She is working with people who are looking into the comets. Meanwhile, Frank finds the city is planning to cut down trees on his property, which he isn't taking lying down. That night more comets shoot across the sky. Zoe is alarmed and quickly takes Rosemary back home as she and her people have work to do. Rosemary returns to the woods to again film the giant beehive. She finds it has gotten enormous and misshapen and is taking over the tree. It is now covered with strange colors and is oozing. Rosemary starts to believe that maybe it isn't a beehive after all.
 Like the orange Zig-Zag rolling papers, The Beehive deliberately uses the slow burn method to get to the goods. This strategy firmly establishes people's ordinary lives and interactions to increase the audience's emotional involvement. When the dread factor starts wreaking havoc on that normalcy, viewers feel its impact and care more. What is remarkable here is how much subtext Lasheras works into the non-alien material. While the framework follows a traditional alien attack trajectory, there is a richness of parallels between the invaders and the invaded woven into the narrative.