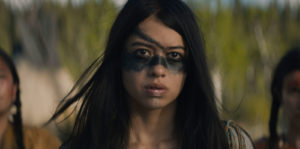 NOW ON HULU! According to Dan Trachtenberg's magnificent action-horror feature Prey, alien predators have been visiting our planet long before Arnie ordered everyone to "get to the choppa!" In fact, these hunter-extraterrestrials have been here as far back as the early 18th Century. The period setting is a genius touch, reinvigorating the franchise and imbuing it with a sociopolitical/historical context. But let's face it: at the end of the day, it's all about the thrills; Trachtenberg and his team deliver on that front and then some. It's astounding that this is a Hulu release – this thrilling, gory, gorgeously orchestrated film deserves to be seen on the largest IMAX screen possible.
The narrative is as straightforward as plots get: in a predominantly male Comanche tribe, Naru (Amber Midthunder) attempts to make a name of her own. Sadly, despite Naru's almost-supernatural ax-throwing abilities, her hunting skills leave a lot to be desired, to the men's disdain. So when she sees a ship land nearby and the Predator (Dane DiLiegro) disembark, no one believes the young woman. Now it's up to Naru to protect her people against the sometimes-translucent, mighty beast and, of course, prove everyone wrong about her skills in the process.
"…it's up to Naru to protect her people against the sometimes-translucent, mighty beast…"
Although never stalling when it comes to action, the director wisely takes his time revealing the monster. His love for Nature is palpable in the gorgeous establishing shots of vast forested lands, the slew of wild, ferocious animals, and in the way Naru and her tribe incorporate what they have at their disposal to fight, hunt, breathe. Pitting the futuristic predator against 18th Century weaponry proves immensely effective.
Indeed, Prey features some of the most inventive, grisly action-horror sequences of the past several years. A snake gets its head pierced while attacking; a wolf hunting a rabbit is butchered in a truly shocking way; skinned buffaloes litter a meadow; a bear encounter brings to mind Lee Tamahori's underrated 1990s classic The Edge – if the bear were the one torn to shreds, that is. But then the film kicks into high gear in its second half, pinning the viewer against the seat: a breathless escape through a field, a brutal encounter with gun-toting French soldiers, and a one-on-one finale that's guaranteed to drop jaws.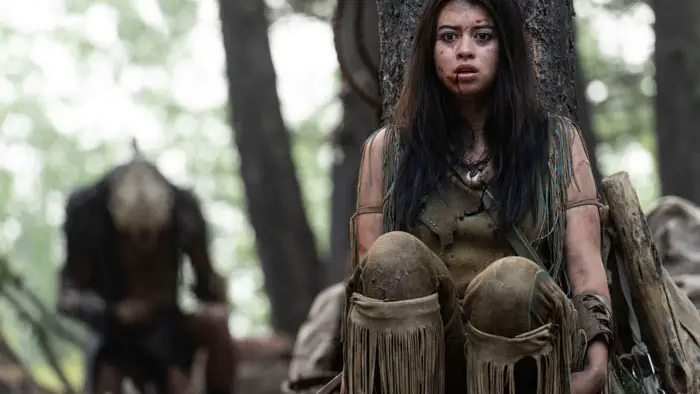 "…a lean, mean machine, without an ounce of fat on its muscular body."