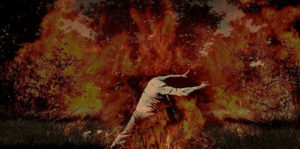 Anyone wanting to see what a John Sayles film on acid might be like, please see indie auteur Antero Alli's feature The Alchemy of Sulphur. Hope (Helia Rasti) is sliding out of love with her boyfriend, Ben (Benjamin Ervin). So she pours herself into a short story a literary journal is paying for her. In it, she re-imagines herself as Hellen (Helia Rasti), a bird-watching divorcee who meets the mysterious Phineas (Douglas Allen) in the forest. Phineas is a tree doctor trying to tend to a grove of dying oaks, so he has little time for her. Naturally, this makes Hellen pursue Phineas even more.
Meanwhile, Hope is invited to tea by two strange women, Callista (Sylvi Alli) and Calliope (Cynthia Schwell). The two inform Hope that they believe her to be a sorceress. Suddenly, Hope spots Keith (Douglas Allen) across the coffee shop, a performance artist who is the exact doppelgänger of Phineas. Infatuated and intrigued, Hope pursues Keith while Callista and Calliope vanish. Soon we begin to wonder whether, instead of Phineas being a figment of Hope's imagination, it is really Hope who exists in the mind of Phineas.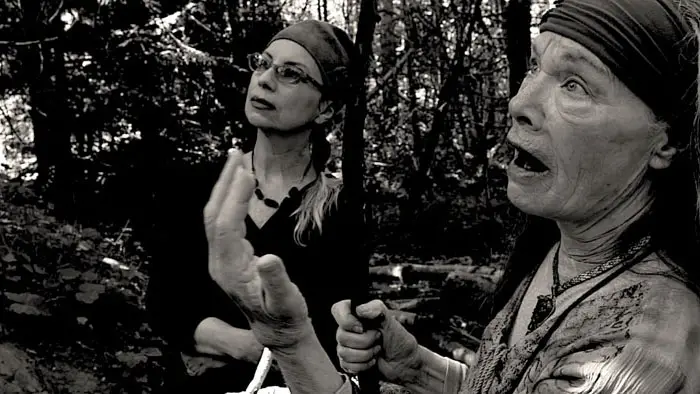 "Infatuated and intrigued, Hope pursues Keith…"
I only recently got hip to Alli and enjoy his work very much. He is old enough to remember when independent films were an alternative to classic Hollywood movies instead of just low-budget versions of them. The Alchemy of Sulphur is crafted like the classic character-driven independent films of Sayles, Cassevettes, and Charles Burnett. Alli makes his films available to the world to watch at no charge, which is amazing considering the quality of his work. The filmmaker's well-written screenplay has impressive pacing with no self-indulgent passages that strain viewer engagement. Even though it delves into heavy concepts, I did not get lost or feel I was missing anything at any time.
Helping the storytelling is the sumptuous cinematography, which differentiates reality from literary fantasy with black and white versus color sequences, just like in The Wizard of Oz. The color uses this interesting mystery filter that enhances the lovely textures of the poisoned trees in the forest in the trippiest way. The expressionistic use of nature images is one of the highlights of the short story sequences. The director revisits the fantasy world frequently but never tarries too long, as these elements are meant to reflect the primary narrative in the real world. The symbolism for the way the fire element of sulphur is used on the poisoned oaks as it relates to Hope's romantic life is relevant and unusual. The insights into human behavior are exceptionally poignant.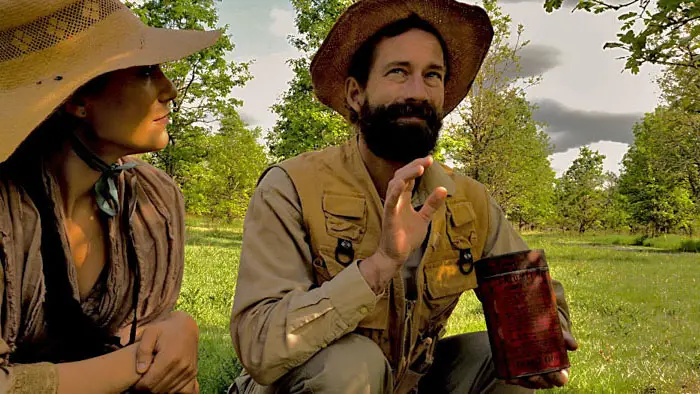 "…some of the best representations of West Coast artist culture..."