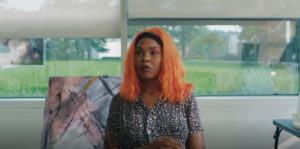 NOW IN THEATERS! The concepts of "Black identity" and "the Black experience" get examined in conceptual artist Martine Syms' debut feature, The African Desperate. The first-time film writer-director has the light touch of an angel as opposed to the sledgehammer approach most filmmakers adopt when it comes to delivering Relevant Themes. She tackles timely subjects with grace and sophistication. Bolstered by a charismatic lead performance and an eclectic electronic soundtrack that incorporates techno, Chicago house, footwork, and R&B, her purposefully meandering debut is filled with expectedly artistic touches but is also down-to-earth and infinitely relatable.
The underlying scathing, albeit subtle, satire of Syms and co-writer Rocket Caleshu's script is perhaps most apparent in the opening sequence, wherein Black sculptor Palace (Diamond Stingily) gets judged by a group of white art critics. Their feedback gradually resembles an interrogation of sorts, passive-aggressive derision that veers into racist rhetoric. They still pass her, but not before demeaning the young woman. This need for white folks to reaffirm their status even while awarding a diploma serves as a powerful and painful reminder of the racial micro-aggressions that people of color still constantly face.
From this point on, we follow Palace as she hangs out with her friends and acquaintances. First, they persuade her to attend a party, where she's supposed to deejay. When it turns out to be a dud, she quickly turns up the heat, but this is just the start of her night. Poems are read. Art and its importance are deliberated. Mushrooms are consumed in liquid form. Ketamine is consumed in powder form. At one point, Palace visits an art installation of ejaculating penises.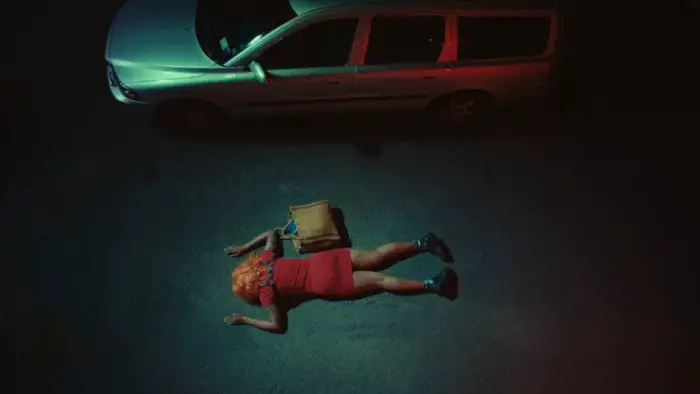 "…Black sculptor Palace get judged by a group of white art critics."
Though the story is, for the most part, grounded in reality, The African Desperate sprinkles it all with just a little acid. Dialogue – artist's names, specifically – is randomly bleeped out. At certain points, tiny screens displaying what looks like YouTube ads pop up. There are odd telephone interludes where characters face the screen and wait for their turn to talk. The cumulative effect is that of being slightly inebriated along with the protagonist.
Speaking of: Diamond Stingily absolutely dominates the screen in the lead role. Like Syms, Stingily is primarily an artist (and a poet) just stepping into the cinematic pool. Her confident strides put more seasoned actors to shame. Stingily appears in every shot, her fiery orange hair a stark contrast to her generally laid-back, world-weary demeanor. "I think there are things in life that are bigger than art," Palace casually states in her insouciant intonation. Through her eyes, the film becomes a tongue-in-cheek study of the contemporary art scene – nothing new, to be sure, but done exceedingly well by insiders. "You are so grounded. Are you a Taurus?" someone asks.
In another scene, Palace's friends circle her, egging her on, almost forcing her to pose for them in a dress, unknowingly and thankfully briefly, reducing her entire identity to a mannequin. "Try it on," they chant until she snaps. The African Desperate is like that. Its pleasantly offbeat vibe frequently approaches deeper and darker territory just to ensure the audience acknowledges it's there. The film then resumes its often-surreal little musical journey. Syms' debut is anything but desperate; au contraire, this is the mark of a relaxed, confident filmmaker with a long, bright future.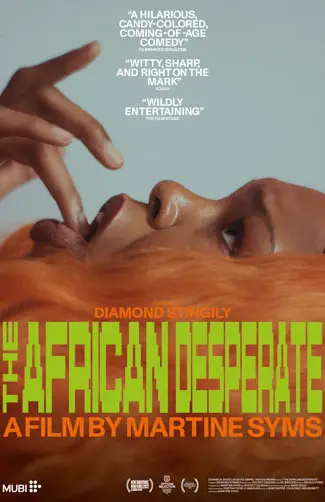 "…a charismatic lead performance and an eclectic electronic soundtrack..."