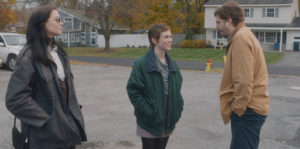 CINEQUEST FILM FESTIVAL 2023 REVIEW! For better or worse, your siblings are the friends you didn't get to choose. This idea is explored in writer-director Dustin Guy Defa's The Adults. This feature is one of those dramas more concerned with evoking emotions and presenting an idea or insight about family than constructing a traditional cinematic narrative. I say this because it will not be everyone's cup of tea.
Our story centers on siblings Eric (Michael Cera), Rachel (Hannah Gross), and Maggie (Sophia Lillis). Eric is returning home after being away for a few years after the passing of their mother. Instantly, painful emotions rise to the surface as Rachel harbors anger at Eric for abandoning the family, making his reception chilly. Maggie's feelings of loss and gratitude for his return for seen through an overly enthusiastic embrace. Feeling duty-bound to his family, Eric makes his return as brief as possible, but thanks to a local poker game with old friends, he extends his visit an extra day. Then a new game surfaces for the next day, and so on and so on.
The Adults comes across as scripted cinéma vérité. All the dialogue feels heavily improvised but structured. Each scene reveals something about the characters' personalities or the nature of this family dynamic. Individually, Eric, Rachel, and Maggie struggle to figure out why they are in this estranged relationship and wonder if it can be salvaged.
"…Rachel harbors anger at Eric for abandoning the family…"
The unique element is the relationship between the siblings. As children, they occupied their time performing for one other, creating song-and-dance numbers and eccentric characters like Eric's Charles or Rachel's Moopy Moopy. At times of great tension (quiet or otherwise), the siblings invoke these characters. On separate occasions, Eric and Rachel transform into Marge Simpson in an odd display freeing tension.
I'll be honest, but I didn't exactly buy 100% into this gimmick. Overall, I think the use of improvised and authentic moments found a way to slow down the pace a lot. I was just begging The Adults to pick up the momentum. This is probably the element that most audiences will have a problem with.
At the same time, Cera, Gross, and Lillis give good performances in this dramatic version of a Christopher Guest movie. Unlike other "improvised" films, the actors do not go on rambling tangents to mine a laugh or something silly to say. They are quick and efficient in getting their information across and further defining their characters in the process.
In the end, I wasn't exactly sold on the presentation of The Adults. As a person with siblings who don't precisely spend much time together and recently had a significant event bring us together, there is a lot that rings true for anyone with sibling issues. Writer/director Dustin Guy Defa connects with millions of siblings powerfully.
The Adults screened at the 2023 Oak Cliff Film Festival and 2023 Cinequest Film Festival.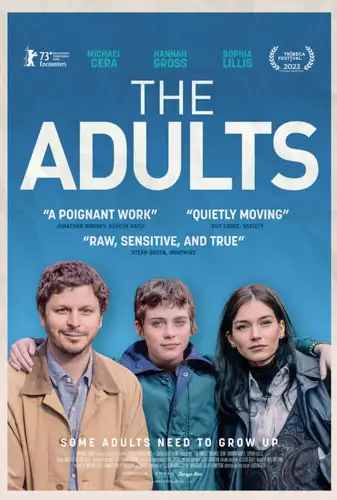 "…rings true for anyone with sibling issues."