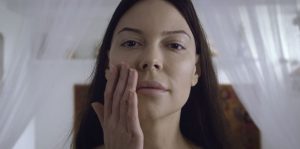 Isolated and lonely after a failed suicide attempt, April Egloff (Jenny Hutton) sorts through the ruins of her life and tries to decide whether it's worthwhile to piece it back together. Saudi filmmaker Gigi Hozimah takes on a study of suicide in That Abandoned Place. April ruminates on death and life in a space of time where she expected to be gone, reconnecting with the world gingerly, taking the weight back on gradually in the calm before the next storm. She narrates her own story, with occasional flashbacks to her life before. 
Suicide is, obviously, the most sensitive of subjects. Lately, the peer-pressure fashion of media suggests we refer to someone as having "died from suicide" instead of saying they "killed themselves," as if suicide was a great bird of death swooping down and taking passive, helpless victims. 
This seems to deny the agency of the person who's made the decision, and that is needlessly pejorative in the aftermath. Intent is for the living. The thinking there, one assumes, is that no situation and no state of mind would rationally lead a person to take their own life. In this philosophy, suicide must always need to be an expression of mental illness. While depression is definitely an illness, and it's true that many people who die this way would go on with rich lives if they could be diverted in the moment, this simply cannot be assumed to be the case in every time. Ultimately, how long we stay in this world could be the only real choice we have in life, at all. 
"…Saudi filmmaker Gigi Hozimah takes on a study of suicide…"
Writer and glorious madman, Hunter S. Thompson, maintained all his life that the latitude in choosing one's moment and means of exit from this mortal coil is a sacred freedom. After suffering great pain recovering from surgery, he followed through at age 67. We cannot attest, ultimately, that Thompson was of sound mind, but having held this idea for so long, we can't argue that it was an impulse. It's not a stretch to imagine he would be outraged at the thought that someone was trying to explain away his decision. He died as he lived, with the throttle to the firewall, and damn the bats, which commands respect. April in That Abandoned Place seems very strong of will, but not, perhaps, as stubbornly determined as someone like Thompson. 
The film has no narrative structure to speak of. It consists of April's memories and meditations on her life. She considers art, love, and friendship to decide if any of them are worth living for, or perhaps if, taken together, they make up enough reason. Images from her past drift in, ephemerally, and then fade to white. 
Gliding under the dark, shiny surface of Hozimah's film is the dreaded search for an existential raison d 'être, the final question we all must either answer or put aside: why? Why are we here, individually and collectively? Does the fact that we are (that we know of) the only beings who ever ask this question mean we are entitled to an answer? 
That Abandoned Place must be considered more of an artistic abstract, a filmic tone poem. Given the topic, one could argue that Hozimah's presentation of suicide is too clean, too neatly buttoned up. The cinematography is calm and beautiful. The scenes are uncluttered minimalism. Paperwhite dominates April's room: linens, drapes, floor. She wears a diaphanous gown that can only be described as funerary. Everything is too pretty; even the actress is gorgeous, beautifully made-up, well-rested, and at peace. Perhaps her suicide attempt did not fail, and we're visiting with her beyond the veil? A crisis hotline worker asks her if she's had any more suicidal ideation, and, ironically, this entire film could be described as suicidal ideation.
It's a moment worth having, experiencing this film, but going to this place will be painful for those who've had suicide touch their lives. There are profound moments within That Abandoned Place but proceed with caution.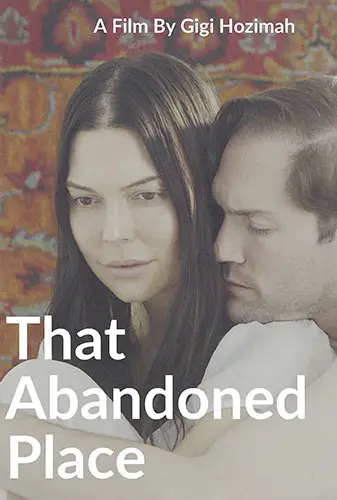 "…gliding under the dark surface of Hozimah's film is the dreaded search for an existential raison d'être"