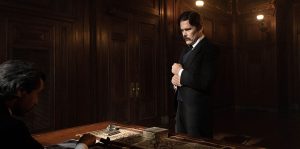 The filmmaker goes for broke, deliberately setting sequences against painted backgrounds or giant black-and-white photographs. There's a moment when Tesla belts out Tears for Fears' "Everybody Wants to Rule the World" into a mic. Such embellishments could've potentially led to a mess, but in Almereyda's capable hands, they somehow coalesce into a dreamlike whole.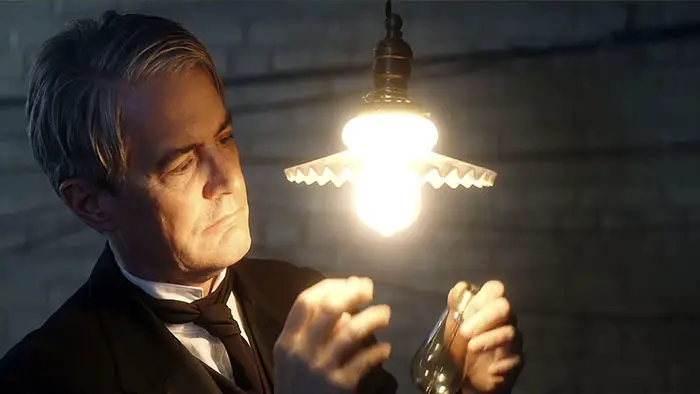 "…requires you to get on its wavelength…"
History buffs should also walk away satisfied, albeit grumbling under their breath about the numerous, purposeful anachronisms. The first execution via electric chair is vividly depicted. The AC vs. DC war is delved into, as well as Tesla's consequent gargantuan ambitions that may have exceeded his grasp. Ethan Hawke is fitfully withdrawn to the point of being unreadable, sporting a somewhat funky accent, but still charismatic as ever. "Earth will be converted into a huge brain, capable of response in every one of its parts," he says, and you believe him. MacLachlan almost steals the spotlight as Edison, silently mourning the death of his wife, while openly deploring Tesla. Eve Hewson shines, fleshing out a relatively small part, while Gaffigan, per usual, provides some comic relief.
The film's point isn't to get inside the man, to probe the inner-workings of one of humanity's greatest minds. Neither is it a grand, fantastical, Prestige-like tale of a larger-than-life persona (though, dammit, I friggin' loved David Bowie as Tesla – what perfect casting!). Tesla is a film that requires you to get on its wavelength, which, admittedly, becomes a bit protracted at times. Even with that, the movie is as poetic, mysterious, elusive, and enigmatic as its titular protagonist. "Maybe he promised more than he could deliver. Maybe he overreached. Or maybe the world we are living in is a dream that Tesla dreamed first," Anne says. The same applies to Almereyda: perhaps his unconventional style of structuring a biography will soon become the norm.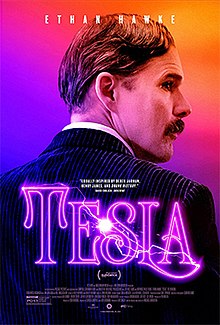 "…history buffs should also walk away satisfied, albeit grumbling..."