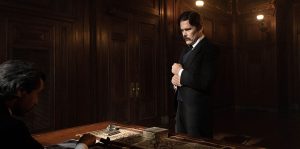 Michael Almereyda has recently been having a comeback of sorts. After years of eluding the spotlight, the man behind cult classics like Cherry 2000 (the remake of which he's currently penning) and Nadja returned to the big screen with the glorious one-two punch of Experimenter and Marjorie Prime. Now Almereyda reunites with his Hamlet and Cymbeline star Ethan Hawke to tackle the biography of one of our most visionary inventors, Nikola Tesla. As such, Tesla confirms Almereyda's status as one of our more visionary cinematic auteurs, blending styles and thematic elements with both reckless abandon and surprising precision.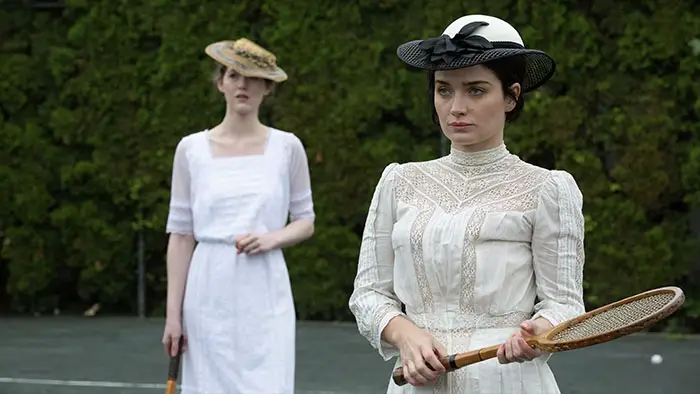 "…focuses on Tesla's life after he moves to the United States…"
Almereyda focuses on Tesla's (Hawke) life after his move to the United States: his rivalry with fellow inventor extraordinaire, Thomas Edison (Kyle MacLachlan); his relationship with patron George Westinghouse (Jim Gaffigan); his courtship of financial mogul J.P. Morgan (Donnie Keshawarz); and his unusual partnership of sorts with J.P.'s daughter, Anne (Eve Hewson) – who also narrates the story. Proverbial sparks fly. Tesla's inventions outsell Edison's. He falls for the first world-famous superstar, Sarah Bernhardt (a radiant Rebecca Dayan). He ultimately owes J.P. money, having flown a bit too close to the lightning, therein searing his eager wings.
Despite resorting to the well-worn trope of utilizing a narrator to tell the story, Almereyda places Anne in a contemporary setting. She googles "Tesla", noting how only four reoccurring images show up. She observes said images on a modern projector. Anne also happens to be an unreliable narrator, depicting certain scenes that she later admits never happened – a tantalizing "if only" that's so tongue-in-cheek, it works. "Tongue-in-cheek" is the most accurate way to describe the general vibe of Tesla.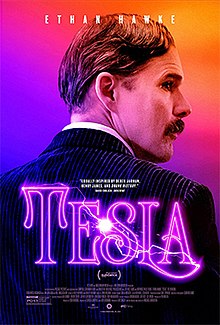 "…history buffs should also walk away satisfied, albeit grumbling..."