Te Ata, directed by Nathan Frankowski, is a biopic about Native American Chickasaw actress from the early 1900's Mary Thompson Fisher (Q'orianka Kilcher), known onstage as Te Ata, her stage name deriving from a Maori (not Chickasaw) word meaning "bearer of the morning."
Te Ata's biography from  the Te Ata film website:
She  was born Dec. 3, 1895, near Emet, Oklahoma. A citizen of the Chickasaw Nation, Te Ata was an accomplished actor and teller of Native American stories. During the prime of her more than 60-year career, she performed in England and Scandinavia, at the White House for President Franklin Roosevelt, for the King and Queen of Great Britain, and on stages across the United States. Te Ata married Clyde Fisher, head of the Hayden Planetarium and former curator of the American Museum of Natural History, in 1933. Although Te Ata worked as an actor and drama instructor, she is best known for her artistic interpretations of Indian stories and for children's book she co-authored on the subject.
This film plays family friendly like a Disney film. While I did enjoy it, I found it stiff and overly formal, could be the feature shown at a natural history museum exhibit with Native Americans presented more as artifacts than as people. It is also persistently pollyanna, looking on the bright side of Ta Ata's story, which is fair enough: she had a great life while chaos swirled around her.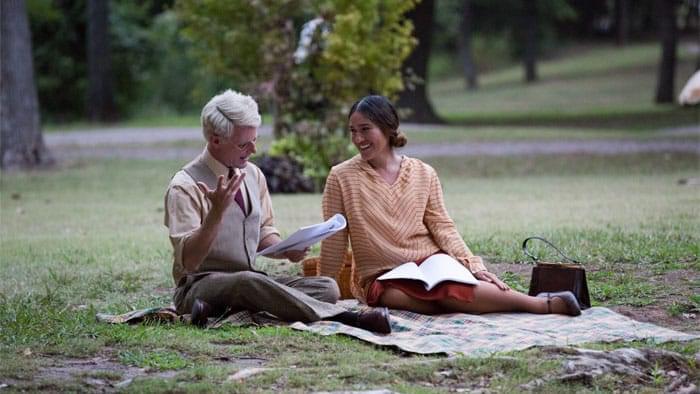 "…she had a great life while chaos swirled around her."
Gil Birmingham, recently from the great film Hell Or High Water plays Mary's father with acerbic charm. 
Revealing perhaps more about reviewer than film: the drumbeat of positivity in this film hurt my head. I struggle with this credulous shiny happy version of the story. The Chickasaw Nation was scraped up out of the Oklahoma soil in bloody bits after the death march on the trail of tears, but that's mentioned only as a dry factoid. When an Elder of the Chickasaw is murdered by a white rancher it's glossed over as the story forges ahead to the next event in Mary's life. I'd like to have seen some time spent on that moment. When her father's business is impacted by his violations of the Code of Indian Offenses (a law that made Native American culture illegal) it's mentioned only in passing. Te Ata's early presentations of Chickasaw stories and tradition had to be done at private events to avoid running afoul of the code. For those interested in exploring that code more, it still exists, though not nearly as draconian as in the late 1800s and it gave rise to Courts of Indian Offenses for any tribes that don't have formal Tribal Laws. Aren't we all under the same constitution? I've learned another lesson in humility here about how much I don't know.
I found the continued used of the word "Indian" for Native Americans grating. Indigenous Americans are not from India. You may as well parenthetically add "feather, not dot." It's offensive. The film has the backing and endorsement of the Chickasaw Nation, so, listen to them before me, obviously.
Te Ata has value as a film, but it's not the Native American story I'd prefer to see. Where's a Quentin Tarantino version of Custer's Last Stand (working title That Time We Kicked Their A***s)? Where is an Oliver Stone film about the Cheyenne massacre at Sand Creek? This story paints bright optimism and the great edification of the Chautauqua of American White People regarding Native American culture, but we know what happened after Te Ata: struggles with under-employment and poor education and rampant alcoholism. The first thought white people have for Native Americans now (if they ever do) is "Casino."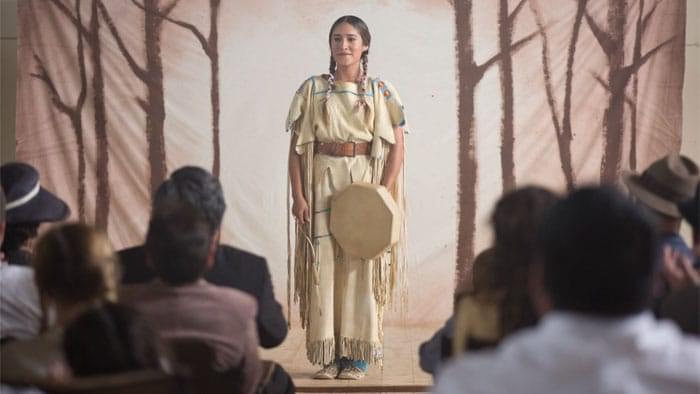 "The details of racism and oppression suffered by Native Americans are shortchanged in favor of the uplifting story of Te Ata's life."
The details of racism and oppression suffered by Native Americans are shortchanged in favor of the uplifting story of Te Ata's life. I understand why. She succeeded beyond all expectations as an ambassador for her culture and in her personal life. It was a charmed, happy life.
The filmmaker tried to avoid a Native American version of the "magical negro" trope and largely succeeded, though he veered dangerously close when Te Ata sees the image of her White Dog spirit guide.
There's a whole genre of film that it occurs to me should be called "white people, I swear" and while I am a white people, there's no identity there for me. My ancestry is Irish and that's how I identify culturally. White nationalism is disgusting. Full disclosure: I was told all my life that I had Native American ancestry, but when I did the popular DNA test and got my results, it turns out I have no Native American DNA. It did leave me with a great affinity and regard for Native American culture and a deep sympathy for their experience in this country. I recommend the 1994 mini-series 500 Nations for understanding that every square mile of North America belonged to someone when the Europeans arrived. 
As propaganda goes this piece is innocuous and tells an important story. For all my cynicism Te Ata did succeed in making me yearn for understanding that could lead to more acceptance of all people. It is time for a great Chautauqua to sweep across this nation to tell us of the spirit of the Native American, to teach and heal and unite. Watching Te Ata could be a good first lesson.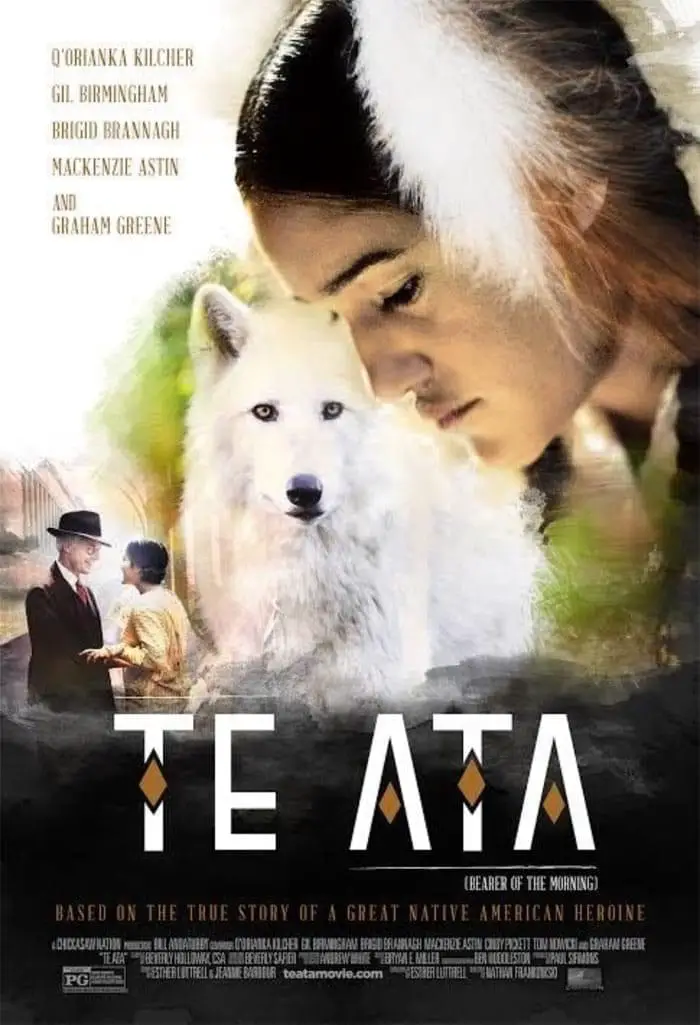 Te Ata (2017) Written and directed by Nathan Frankowski. Written by Jeannie Barbour, Esther Luttrell. Starring Q'orianka Kilcher, Gil Birmingham, Graham Greene.
7 out of 10