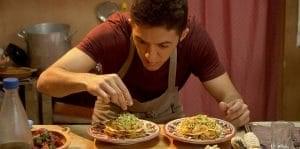 Passion. A burning desire. A deep compulsion rising from within your soul. That driving force compelling you to do what you love (even just recreationally) allows you to feel alive in ways nothing else can. That passion is different for everyone–some people read books for adventure, others watch movies to experience the world, and of course, some people lose themselves in cooking. Cooking is what motivates the main character from the dramatic comedy Tazzeka.
Ever since Elias (Mahdi Belemih) was a young boy, his grandmother (Khadija Bouzekri) has been teaching him how to cook. Elias is a natural and as he grows up, his love of cooking only grows stronger. He gets a job as a chef at Youssef's (Abbes Zahmani) restaurant. While the older food lover, and an excellent cook in his own right, can be a bit exacting at times–such as his strict adherence to the menu–Youssef does care for Elias.
One random day, Julien Blanc (Olivier Sitruk), a famous French chef shows up to Youssef's place. Elias is beside himself and goes all out for the TV personality and cooking master. Julien is quite impressed by the young lad's culinary skills and tells Elias to look him up if he ever happens to be in Paris. This compounds the trapped feeling Elias has been feeling for a while, as the prospects in his tiny Moroccan village of Tazzeka are not the greatest. Julien's offer comes just before Salma (Ouidad Elma), a friend with the potential to be more, heads back to Paris to live with her sister.
"Elias is a natural and as he grows up, his love of cooking only grows stronger…"
Elias's mind is made up. He heads to the capital of France but finds getting work as an immigrant to be more stressful than he initially thought. Settling on construction and living with his co-worker's family, Elias grows restless. Forcing his time in Paris into a tight turnaround is news that his grandma has become quite sick. Will Elias realize his dreams? Can he make it back to Tazzeka to see his grandma one last time?
Jean-Philippe Gaud directs only his second movie in 16 years, and his first full-length film with Tazzeka. Given how ably Gaud balances the tones and characters, it is a wonder that he hasn't made a bigger name for himself. The man is a natural born storyteller, and with this empathetic eye turned towards the plight of immigrants and their aspirations, the movie is a powerhouse. The simple shot compositions allow for focus on the characters and their dialogue.
Elias attempts to steal some money from Youssef to get to Paris. Youssef catches him and is angry at first and berates his friend. Then he asks Elias why he took the money and ultimately helps the boy out. Witnessing such a sweet moment come from such an abhorrent act and understanding the change of heart is a testament to the brilliant screenplay. Gaud also wrote Tazzeka, along with Mariannick Bellot. Each character has a distinctive voice and feels fully formed and realistic. Every character's motivations are well reasoned and balanced by their desires and their relationship to those around them.
While the characters are engaging, once Elias gets to Paris the story hits a major plothole. Elias goes about doing various jobs such as handing out fliers and the construction gig, reluctant to see Julien. Ostensibly, this would seem to stem from his status as an undocumented immigrant. However, after some soul searching, Elias does go see Julien. Unless I blinked and missed a scene, he is still without papers when he asks for Julien's help. So why didn't Elias go to Julien as soon as possible?
"When things turn serious and painful for his character, Belemlih delivers the proper solemnity…"
Mahdi Belemlih only has four credits to his name, but in Tazzeka he proves all the making of a movie star. Belemlih effortlessly carries the movie (there's maybe two scenes he is not in) and he such is a fun personality the viewer just becomes delighted with Elias. When things turn serious and painful for his character, Belemlih delivers the proper solemnity without making turning off the brighter qualities Elias possesses.
Ouidad Elma also does a stunning job. Her flirtations with Elias are fun, but it is when she shuts things down, as she thinks he is taking this relationship too seriously, that she shines. The scene where Elias steals from his employer could have felt awkward or weird, given all the different emotions Youssef goes through, yet Zahamani as Youssef is brilliant. Each new thought and feeling he has registers across his expressive face.
Tazzeka has a lot to say about the passion that fuels people, the way society treats immigrants, and how those two elements interrelate. There is a plothole that feels more like dramatic convenience than anything else, but the realistic characters, exquisite dialogue, and excellent acting easily overcome such an obstacle.
Tazzeka (2018) Directed by Jean-Philippe Gaud. Written by Jean-Philippe Gaud, Mariannick Bellot. Starring Mahdi Belemih, Ouidad Elma, Abbes Zahmani, Olivier Sitruk.
8 Gummi Bears (out of 10)