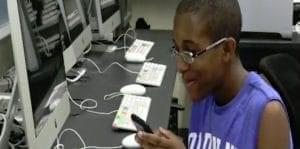 In Tariq's Day Out, Tariq finds himself in a similar situation faced by millions of children across this nation—he's at school, and he's bored. That is until he receives a text from his friend Alex to ditch school and hang out with him. Clearly, a decision that Tariq would soon regret as the two get themselves in some real trouble resulting in a deadly gas leak at their school.
First, I have to say, my description of Tariq's Day Out is much more interesting than the actual short film now available on RyeTV Public Access. While Tariq does ditch school with Alex, they go about playing video games and ping pong. The day ends with a harmless prank on a friend and learning of a gas leak at school.
As a kid, I wish I had access to a video camera, editing equipment, and a company willing to broadcast anything I created regardless of its quality. RyeTV is a fantastic resource for young filmmakers. I'm feeling a little jealous thinking back on a script I wrote with a friend when I was twelve.
"…they go about playing video games and ping pong. The day ends with a prank on a friend…"
Enough with the platitudes, let's talk about Tariq's Day Out. If you give a bunch of kids a video camera to make a film, you're going to get a film that looks like it made by kids. The best thing I can say about Tariq Greene's short film is that it's three minutes and two seconds long, which shows good editing instincts, plus I'm not sure I could have lasted much longer.
The production value, cinematography, and acting fall far short of any low standard of word "good." Then again, if I told you this short was made by kids (I'm guessing junior high), the quality of the final product would just make sense to you.
Let's focus on one aspect of Tariq's Day Out. When you're a kid wanting to make a film, and you have no budget, no experience, and access to amateur child actors; the only thing you have real control over in spite of your lack of resources is the story. While it sounds like fun to ditch school and play games with your friends, it's just not that interesting. What you need is a little drama. Maybe address the consequences of ditching school, whether good or bad. Maybe they find a winning lottery ticket or a dead body on the side of the road. Think about what you could give your unsuspecting viewer as a reward for watching your short film.
Tariq's Day Out (2014) Directed by Tariq Greene. Written by Tariq Green, Alex Conn, Joel Louis Ferdinand. Starring Tariq Greene, Alex Conn, Harry Conn.
2 out of 10 stars