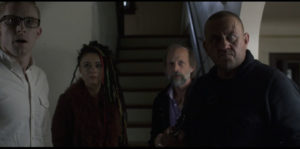 Produced by indie film stalwart Joseph Williamson, writer-director Harley Wallen's The Devil's Left Hand is a horror film treading the well-worn trail of demonic possession. But just because something's been done before doesn't mean it shouldn't be mined for new angles or creative ways of being brought to life. Does Wallen find that creativity, or does the film need a seance to come to life?
At a housewarming party, the new homeowners, Richie (Kris Reilly) and Cassidy (Kaiti Wallen), decide to have a seance. The medium, Vesna (Aphrodite Nikolovski), warns everyone to not let go of each other's hands until the ritual is complete. Unfortunately, a startling and creepy moment involving Richie's dead father breaks the chain. Afterward, he visits his mom (Laurene Landon), who is in a home. Given a tragedy in their past, she's none too happy to see Richie. But it is precisely those events that threaten to haunt Richie into an early grave.
Of course, there were others at the seance, and they, too, are experiencing inexplicable happenings. Cassidy reaches out to warn everyone as Vesna, and her assistant Zeb (Harley Wallen), return to help the group deal with the evil that has manifested. Why is the demon targeting Richie, and can anyone survive its onslaught?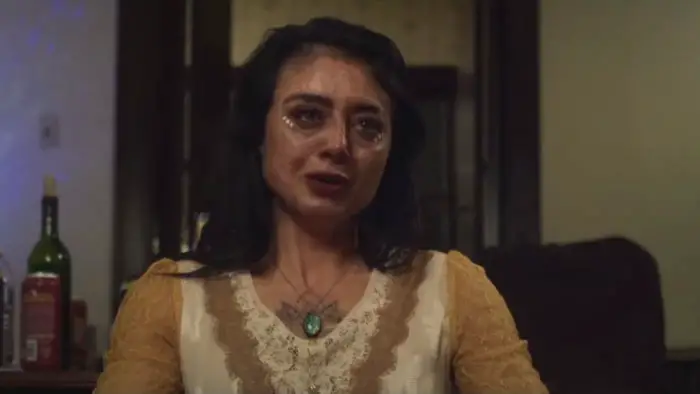 "…help the group deal with the evil that has manifested."
The Devil's Left Hand may not be the most original, but it offers much to appreciate. As a director, Wallen easily creates tension, even if there's a reliance on jump scares for the first half. Plus, the screenplay is populated with interesting characters. Yes, Richie's standoffish ways mean it is a while before viewers are rooting for him. But Cassidy is instantly likable and does her best to help her husband, no matter the cost. Plus, once it's revealed what's happening to Ritchie and why, the stakes are upped considerably.
Kati Wallen is superb as a loving wife. When she goes to confront Richie's mom about certain things, her frustration and fear are palpable. Reilly gives an interesting performance, making audiences both annoyed by and totally invested in the man being chased by a demon. Nikolovski is tons of fun as the rough-around-the-edges medium. She possesses some killer comedic timing and sells the supernatural angle well.
The Devil's Left Hand has a few awkward elements throughout; specifically, the effects of the glowing eyes are just cheesy. But thanks to a solid script, creepy direction, and a good cast, the film still works. So grab the popcorn and be prepared to be scared by Wallen's little demonic horror film.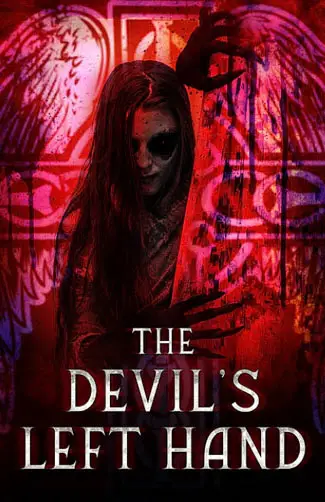 "…creepy direction, and a good cast..."