SUNDANCE FILM FESTIVAL 2023 REVIEW! There is no shortage of films about the durability of sibling bonds. Sometimes those bonds are tested by a major event. Such a scenario happens to be the case with writer-director Liz Sargent's Take Me Home, a wholehearted short film about two sisters reuniting after their mother's death.
Anna (Anna Sargent) is a cognitively disabled woman. Unable to take care of herself, she lives with her mother (Joan Sargent). But the film opens ominously, with Anna heating a can of soup in the microwave, which, as we know, is extremely dangerous. She's overcome with anxiety and worry because her mother is unresponsive. Finally, she calls her sister, Emily (Jeena Yi), who is the one to realize that their mother has passed away. So, naturally, Emily returns home and begins figuring out how to best support Anna.
Emily immediately takes control and starts sifting through papers, medicines, and boxes. Meanwhile, Anna is slowly processing her new reality, whatever that may look like. A notable shot of her looking at herself in the mirror compounds her doubt. The hardheaded Emily looks credibly exhausted by the current situation. Policies prevent Emily from receiving Anna's up-to-date medical information. Moreover, boxes of junk keep piling up.
"…Emily returns home and begins figuring out how to best support Anna."
Throughout Take Me Home, Emily's anxiety is keenly felt, based largely on Yi's stellar performance with agreeably opposing hints of austerity and tact. Performing alongside her is the lovely Anna Sargent. Being disabled, Anna has her limits. But with foresight, the filmmaker unveils the imperfections and difficulties of Anna and Emily's dynamic while still making sure they don't say or do anything that isn't repairable. Even if some of their interactions are truncated, Anna and Emily show their understanding of what the other is feeling with small gestures, such as Emily handing Anna a piece of their mother's clothing to keep.
There are a handful of moments where Anna briefly remembers her mother cutting her hair and showing her affection. Editor Ashley Roby does this without interrupting the flow. But just as crucially, these glimpses of the past, as Anna remembers it, are a way for viewers to comprehend the character's grief. At the same time, cinematographer Minos Papas frames Anna nicely, maneuvering the camera to draw focus to her reactions and moments of contemplation.
Strengthened by earnest performances and a moderately plaintive tone, Sargent avoids cheap sentimentality and easy answers. Steering through grief and disability is never an effortless venture. But, for now, at least Anna and Emily have each other. Take Me Home is an unaffected drama regarding why being there for loved ones is essential. The drama bolsters the idea that being loved is what makes us feel at home.
Take Me Home screened at the 2023 Sundance Film Festival.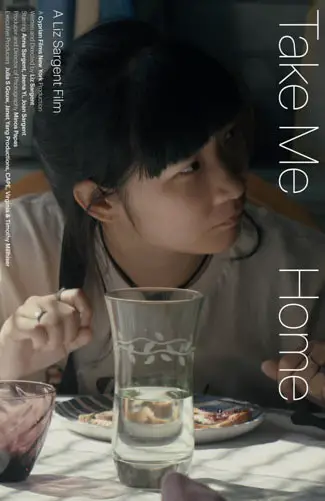 "…avoids cheap sentimentality and easy answers."