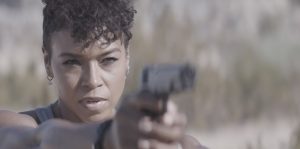 What Christian Sesma's action film, Take Back, has going for it is its star, Gillian White. Not only does she deliver a good performance, but White is also the first black female to star in a martial arts movie. With powerhouse actors to support her in Michael Jai White and Mickey Rouke, you're in for a fun indie roller coaster ride.
The film opens with the kidnapping of a young woman forced into the vicious Patrick's sex-trafficking ring. Zara (Gillian White) and Brian (Michael Jai White) are your typical small-town couple. She is a medium profile lawyer, and he runs a martial arts studio. It appears that Zara might have a connection with Patrick's evil wrongdoings.
In an unrelated event, Zara finds herself in the middle of a coffee shop domestic dispute. Thanks to her lightning-fast reflexes and extensive training, she quickly subdues the perpetrator, and before you know it, the store surveillance video is leaked to the local news. Zara is now a reluctant hero. Her appearance on the news attracts the attention of Patrick, who sends a killer after her and eventually kidnaps her stepdaughter, Audrey (Priscilla Walker). What connection could Zara have with Patrick? Why is he so obsessed with her, intent on ruining her life?
If you want an evening of good martial arts action and suspense, you can't lose with Take Back. White is pretty badass in style and attitude and looks good doing all of her own fighting on screen. But, what you're going to get overall are low-budget, independent thrills. The action is carefully staged for the sake of safety. Most of it is one-on-one close combat, and the stunts are limited to reduce insurance costs. Sesma does an excellent job of working within these limitations.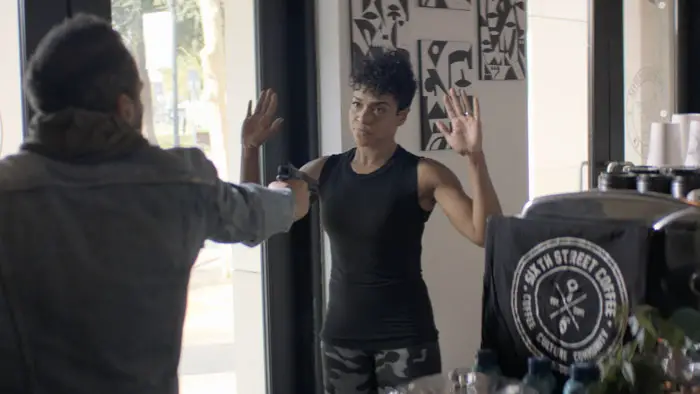 "…sends a killer into her home and eventually kidnaps her stepdaughter…"
There is a good amount of suspense built up. We are dealing with a sex-trafficking syndicate, but nothing is ever salacious as far as its treatment of women. Most of the "violence" is the women being yelled at, threatened with sticks, and pushed around. The film effectively uses camera angles and filters to heighten the terror.
Take Back is an indie film, and quite frankly, if they had a big Hollywood studio pumping in millions of dollars, then yes, the quality of the film would appear more cinematic. At the same time, it would lose the personal charm of a cast and crew backing an emerging star in Gillian White.
Adding gravitas to the film is Michael Jai White, clearly taking a supporting role. He plays sort of a nebbish husband and very different from his most recent action films. Mickey Rourke never phones it in as the bad guy and finds ways of elevating the role when it's clear he's not being paid to do that.
Take Back is a fun ride, but it is not going to wow you with its storyline and less-than-Oscar-worthy performances. It's a great film to relax at home with and enjoy a steady stream of light suspense and action… and support up-and-coming stars.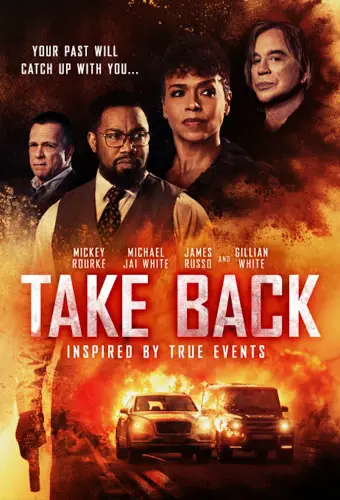 "…White is pretty badass in style and attitude and looks good doing all of her own fighting..."