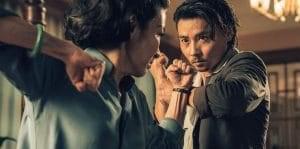 Ah, the sweet joys of a nicely constructed martial arts film, plus a known name added in for flavor. The film I speak of is Yuen Woo-ping's Master Z: The Ip Man Legacy. This is the direct sequel to Ip Man 3 and who the hell cares. I didn't see it, and the flashback montage in the beginning doesn't really help. How concerned are we with plot and continuity in the Ip-verse?
The setting is post-WWII Hong Kong as the city is under British rule. Master Z is about Cheung Tin Chi (Jin Zhang), who was defeated in the last film by the Ip Man (again, didn't see it). Humiliated, Tin Chi chooses to live life as a humble groceryman with this son, Fung. Fung is bullied and wishes his father would become a great hero again.
"Humiliated, Tin Chi chooses to live life as a humble groceryman with this son…"
If you're a legendary killing machine, you know you can't hide forever. Trouble comes in the form of local gangster Kit (Kevin Cheng) who tells a young woman Nana (Chrissie Chau) to repay her debt to him, or she will be sold to a brothel in the South Pacific. To her rescue comes Julia (Yan Liu), her best friend, who repays the debt, but Kit is now demanding interest. Julia refuses and Kit's gang of a dozen thugs attack. Julia is more than able to kick some a*s, but the numbers are too big, and reluctantly Tin Chi saves the ladies, just as the police arrives. It is here that Tin Chi sees corruption first hand as the British Senior Police Officer (Brian Thomas Burrell) releases the gang with no charges and the Hong Kong officers just stand by; powerless to find justice.
Seeking revenge, Kit burns down Tin Chi's shop, almost killing Fung in the process. Now homeless, Tin Chi and Fung stay with Julia and her brother Fu (Xing Yu), who owns a local girlie bar and is engaged to Nana. In a quiet moment, Tin and Fu spar and discover that he once studied at Tin Chi's former martial arts school.
Meanwhile, Kit is part of the Cheung Lok gang led by his sister Miss. Kwan (Michelle Yeoh). During a lieutenants meeting, she declares the Cheung Lok gang is going legitimate and forsaking all illegal business. This does not sit well with Kit, who splits and starts his own opium trading operation with an American restaurateur Owen Davison (Dave Bautista).
"…starts with your standard twelve-against-two, some nice wire work on the neon signs of Hong Kong…"
Master Z: The Ip Man Legacy is a pretty lengthy mob tale, which spans the spectrum of good and evil. Drug trade, prostitution, gangsters, political corruption, and Western exploitation, it's a well-told story that often takes your mind off the fact that it's been a while since the last fight. But we're here for the face-punching and body chops. There's a lot of it, and it's great. Most of it is hand-to-hand martial arts combined with wire-work, which is eased into the action throughout the film. I've never been a fan of martial arts on wires and the flying fighters, but it sure does look good in the somewhat modern setting of '50s Hong Kong.
Jin Zhang is masterful as the former legend Tin Chi. His fighting is slick along with his cool demeanor. The film starts with your standard twelve-against-two, some nice wire work on the neon signs of Hong Kong, and a inspired moment of passing a glass of bourbon between Zhang and Michelle Yeoh. Later Zhang and Yeoh mix it up, and Michelle Yeoh is amazing to watch. Dave Bautista is a menacing behemoth of a man, especially set against the shorter Chinese fighters. His slower brute force wrestling style makes a great formidable opponent for Tin Chi at the end, and we do get to see a few Bautista Bombs. My guess is he filmed this pre-Drax because his acting is a little stiff.
The story itself is one man…an ant caught in a big world of corruption. Tin Chi is a man who felt like he could just drop out of the bigger picture but rediscovers himself to save his family, friends, and Hong Kong. Master Z: The Ip Man Legacy is a big story with big action along the lines of Carlito's Way. You can easily jump in on this story without needing to see the previous Ip Man films.
Master Z: The Ip Man Legacy (2019) Directed by Woo-Ping Yuen. Written by Edmond Wong, Tai-lee Chan. Starring Jin Zhang, Dave Bautista, Michelle Yeoh, Tony Jaa, Kevin Cheng, Yan Liu, Xing Yu.
8 out of 10 stars