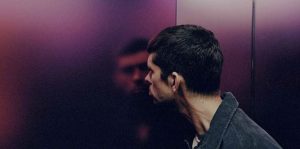 The psychological drama Surge, Aneil Karia's feature-length debut, offers an unflinching look at the rapid mental deterioration of a man without providing much insight or context. Ben Whishaw's raw central performance keeps one glued to the screen, but the cold and distancing result doesn't quite do it justice. Shame, as Karia displays a knack for building tension and maintaining an almost nauseatingly melancholic atmosphere. If only he dug a little deeper.
The film follows Joseph (Ben Whishaw), a TSA worker at Stanstead airport, whose quiet, reclusive nature unravels after an intense encounter with a psychotic passenger. Emasculation by his parents (Ian Gelder and Ellie Haddington) at home proves to be the last straw; Joseph snaps, bites into a glass of water, and storms out of the house, blood mixed with sharp shards gushing down his chin. From this point on, Joseph dives head-first into dementia.
There's an odd air of salvation to his increasingly crazed shenanigans. Yes, Joseph lost his job, but he always loathed it. The stripping away of inhibition allows him to hook up with the girl of his dreams, Lily (Jasmine Jobson), a former co-worker. And sure, he robs banks – nonchalantly, like it's the easiest thing in the world, with a single handwritten note – and steals ATVs, but hey, Joseph gets to live life on the edge, right? Just look at that content smile on his face in the final scene.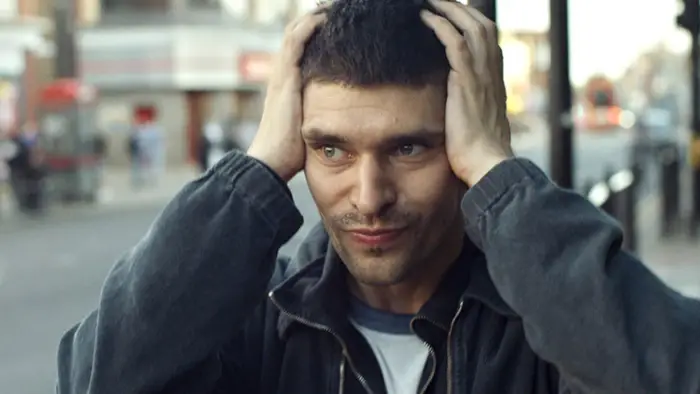 "…Joseph snaps, bites into a glass of water, and storms out of the house…"
Those prone to seasickness may have a difficult time with Surge. In trying to reflect/keep up with its protagonist's increasingly berserk state of mind, Stuart Bentley's handheld camerawork is belligerent, swaying and shaking, as if struggling with staying focused on Joseph. That being said, it goes a long way in complementing Karia's established verisimilitude, and a dank portrayal of London emerges, of indifferent masses of people, in the frenzied background, watching the deranged Joseph scamper by.
The film is a grim experience, indeed. Like Russell Crowe's recent (inferior) Unhinged or the Michael Douglas classic Falling Down, the three screenwriters — Rupert Jones, Rita Kalnejais, and Aneil Karia — explore the plight of the Angry White Man who's had enough with the constraints of contemporary society (and, in this case, parental abuse, I guess?), and rebels against it. That's pretty much it. We stay with the character as he loses his s**t. Next-to-no motivation, depth, or nuance is provided. How sympathetic will audiences be to said consensus? Am I missing subtext here?
Karia shows great skill with handling individual sequences, such as Joseph's failed attempt to help his parents install a washing machine ("It was your mum's idea," his dad snarls). Other stand-out moments include his unraveling at the airport and the dismantling of a hotel mattress. It's those scenes, and Whishaw's acting, that provide Surge with its surge of inspiration.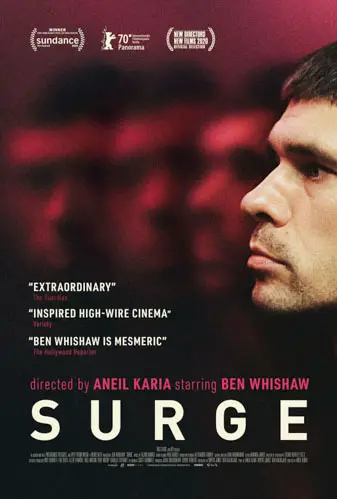 "…Whishaw's raw central performance keeps one glued to the screen..."