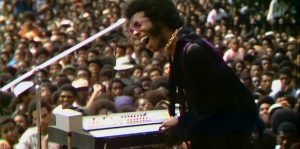 I loved seeing Mavis Staples and Mahalia Jackson singing together, the always perfect choreography of Gladys Knight's Pips, the joyous multicultural cacophony of Sly & The Family Stone. More than that, I loved discovering acts that I wasn't as familiar with, such as The Chambers Brothers, The Edwin Hawkins Group, and Mongo Santamaria. Something else I took away from this is that from a sociopolitical perspective, we are still facing a lot of the same problems in the US that we have been for the past 50+ years. Poor people and minorities still face disdain and ignorance. The government is still out of touch with the needs of the people. During the festival, the moon landing took place.
"It's a sign of a good movie when it makes you think."
Something I never considered that was covered in the documentary is how mad a lot of people were that the government was spending money going to the moon rather than spending that money on the problems of poverty. Redd Foxx is shown saying, "Black man wants to go to Africa, the white man wants to go to the moon, I'm just gonna stay here in Harlem and have fun with the Puerto Ricans." Another legendary comedian, Moms Mabley, performed at the festival and said, "A man went to the moon. I went as far as Baltimore with him, and then I got off." The parallels in modern society are the billions of dollars that Congress is okay with giving to the military, but the reluctance on behalf of many politicians to give people economic relief during a global pandemic. In the words of David Byrne, "Same as it ever was."
I really didn't mean to go on a political tangent here, but Summer of Soul (…Or When The Revolution Could Not Be Televised) got me thinking. It's a sign of a good movie when it makes you think. The documentary will also make you laugh and dance. Not many films can boast all of these properties. So I think that Thompson pulled off an extraordinary feat. He introduced a whole new audience to a very impressive cultural event that could have been entirely forgotten. He also reminds us of where and what conditions we all came from as a country and where we're headed now. It's pretty genius as far as I'm concerned. I wonder if you'll agree.
Summer of Soul screened at the 2021 Sundance Film Festival, 2021 Hot Docs Film Festival, and the 2021 AFI DOCS.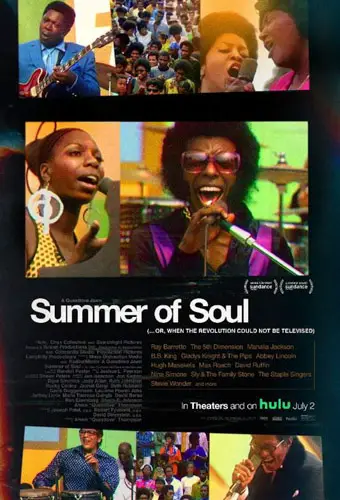 "…the government is still out of touch with the needs of the people."