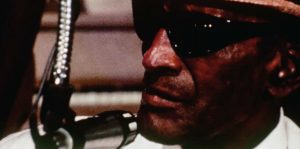 When it comes to concert films, nothing is more frustrating than when the cameras cut to the audience. Not for one second of watching a performance am I thinking, "I wonder how Joe Nobody in the audience is feeling about this." It's the genre's form of a laugh track, designed to force-feed us the emotions the movie doesn't have the confidence in itself to provoke. But Memphis '69, documenting the fourth Memphis Country Blues Festival, is different.
Like Woodstock from the same year, Memphis '69 is filmed with an archival perspective, as it attempts to capture not just the performances, but the spirit of the time—albeit, on a much smaller scale. Instead of vanilla reactions shots, we see a twelve-year-old smoking a cigarette, a pretty girl with dirty, Hobbit feet, and a guy eating watermelon with a chef knife. In terms of period personas, we have hippies, rednecks, and hippie rednecks. It's a beautiful coalition of countryfolk for whom the blues was passed down and city kids who are working backward from Led Zeppelin.
"…blues legends like Bukka White and Mississippi Fred McDowell, as well as…John Fahey and the Bar-Kays."
This is also evident in the concert's lineup. There are blues legends like Bukka White and Mississippi Fred McDowell, as well as more "modern" performers like John Fahey and the Bar-Kays. Looking back with a 21st-century perspective at the musical tastes of the late-sixties, it's astonishing how interwoven everything was. If you look at something like the Beatles' "White Album," it contains folk, blues, vaudeville, avant-garde, surf rock, and the closest thing 1968 had to heavy metal, just to name a few of its flavors. Oddly enough, many of these old bluesmen never would have achieved their late-in-life popularity if it hadn't been for the skinny, British kids halfway across the globe, and those kids would never have found their popularity without the initial inspiration from the old bluesmen. Sometimes, things work out nicely.
Unfortunately, the audio in the film isn't great. Surely the result of the limitations of the time, but, regardless of the reason, the music suffers. Just as one example, the stage's microphone was clearly unprepared for the jagged yell of Johnny Winter. That's not to say the music is ever unlistenable, and it's certainly not unwatchable. Any footage of Bukka White giving his guitar a spanking is worth having and preserving for future generations. When he begins playing his guitar behind his head, I was reminded of the stories of Charley Patton throwing his guitar into the air (if only we had footage of that). It's also nice to see a performance by the blind Nathan Beauregard, whose birth year is unknown, but some have him as old as 106 when this film was shot—he certainly looks it. Footage of Beauregard—and many of the film's other performers—isn't exactly commonplace, either.
"…it attempts to capture not just the performances, but the spirit of the time…"
Originally filmed by Gene Rosenthal and a small crew, but carried to the finish line by Joe LaMattina, Lisa LaMattina, and Fat Possum Records, Memphis '69 probably won't find the diverse audience that the blues did 50 years ago. This is due to both its content—anyone who doesn't own a G harmonica and the complete recordings of Robert Johnson is an unlikely target—and its rough-around-the-edges production, which isn't bringing in any new fans. But bringing in new fans probably wasn't part of the plan.
Memphis '69 (2019) Directed by Joe LaMattina. Written by Joe LaMattina, Lisa LaMattina. Starring Johnny Winter, Rufus Thomas, John D. Loudermilk, Bukka White, Jo Ann Kelly, Sleepy John Estes, Mississippi Fred McDowell, Furry Lewis, John Fahey, Nathan Beauregard. Memphis '60 screened at the 2019 Slamdance Film Festival.
7 out of 10 stars