Brandon R. Scharping's Submit is an effective short that, in just over twenty minutes, examines religion, cultural persecution, racism, and xenophobia as effectively as any feature.
Depicting a United States that is under repeated terrorist attacks, the story follows Nabil (Alain Washnevsky) a Syrian attempting to make good in an America under siege while maintaining his religious conviction and peaceful ways. Trained as a doctor, Nabil dutifully digs ditches to make a living to support he and his younger brother Mehdi (Wali Habib) who is attending university.
Pushing through protesters, Mehdi visits his mosque. Meanwhile, the threat level system is reinstated and raised to its highest and every interaction with so-called Americans is tinged with suspicion. Then something changes. The paths diverge after Mehdi witnesses the religious persecution of a young woman wearing a hijab and the dilemma of violence begetting violence rears its head.
"…every interaction with so-called Americans is tinged with suspicion."
The script, written by Scharping, is a little ambiguous on the timeframe, leaving us to place the setting sometime in the present-ish. This works well as we are asked to explore the all too possible reality of an America driven by fear. Still, there are flashes of humanity in the exchanges that Nabil has with his co-worker Dante (Leroy Edwards III) or the waitress at the local cafe (Mo Beatty).
There are flaws however, that could be easily massaged. The problems have mostly to do with the fact that we are not given enough time to see our characters develop and reach the conclusions that they do. We are denied the discovery of learning what brought them to this stage in their precarious situation. There just isn't enough runtime. Why is Nabil, a brilliant and compassionate man, relegated to digging ditches? Furthermore, how is his younger brother capable of attending college in an America gone mad with prejudice?
We have also seen this story before and in this instance, there isn't anything new that is brought to the table in regards to the elements it features. We are taught, among other things, never to take things at face value. I do not want to spoil the climactic ending, but there is a lesson to be learned and it packs a punch.
Fortunately, what saves Submit are the performances that sell far more nuanced than the movie has the time or budget for. This is Submit is not a bad short film at all, but I would like to see the full movie with the same cast and crew and more of what is here.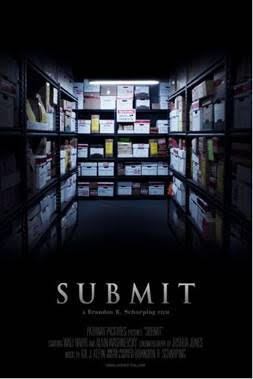 Submit (2018) Directed by Brandon R. Scharping. Written by Brandon R. Scharping. Starring: Wali Habib, Alain Washnevsky, Frederick Lawrence. 
7 out of 10 stars