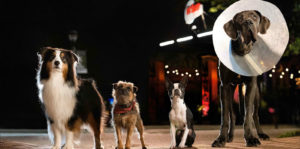 NOW IN THEATERS! If you've seen the trailer for Josh Greenbaum and Dan Perrault's Strays, you'll know right away that this is a very R-rated adult version of Homeward Bound. Will Ferrell voices the very cute doggie, Reggie. The little guy was a product of a relationship gone bad for his owners, Doug (Will Forte) and Jenna (Charity Cervantes). She wanted Reggie, and Doug didn't. When they broke up, Doug wanted to hurt Jenna so severely that he kept the dog.
Now realizing that he's saddled with a dog he never wanted, Doug tries vainly to ditch Reggie. With each moment of anger and disdain Doug shows, Reggie only sees it as acts of love from his master. As the final straw, Doug drives Reggie out three hours by car to the city and once and for all ditches him there. In the city, Reggie is shown the ropes by the street-wise stray Bug (Jamie Foxx) and his friends Maggie (Isla Fisher) and Hunter (Randall Park), who have owners. Bug convinces Reggie that Doug never loved him. Now Reggie is so mad he wants to return home and bite Doug's dick off. Of course, Bug, Maggie, and Hunter can't miss this.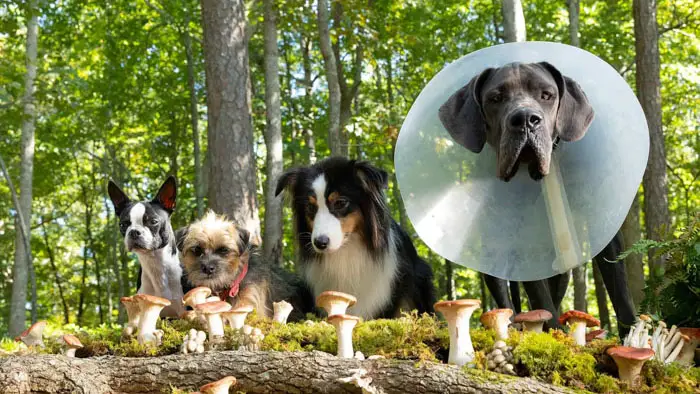 "…cute animals dropping F*bombs about a million times…"
There's essentially one joke when it comes to Strays: cute animals dropping F*bombs about a million times throughout. It gets old quickly. But there are several bright sides to give the film a bare recommendation. First off, Ferrell is always perfect as the naive protagonist who thinks the world loves him when it would rather beat him down ruthlessly. Reggie is Buddy, the elf in dog's clothing. Yes, he has done this before, but it rarely ever gets annoying.
Second, the movie is raunchy, raunchy, raunchy. This is my style of humor, and I love it. The dog pound breakout is pure penis gold, and the mushroom bender with rabbits is a bloody work of art. It's not everyone's cup of tea, which I get. Lastly, the mouth animation and dog wrangling are flawless. I've seen more than my fair share of talking animal movies, and this is probably the best. The mouth movements are perfect, and the highly trained animals pull off each scene/stunt/emotional moment.
I recognize that I might be the only one in the world who feels this way, but Strays hits my sweet spot in comedy. It is goofy, silly, and filthy. Your mileage may vary, but I can't wait to see this again.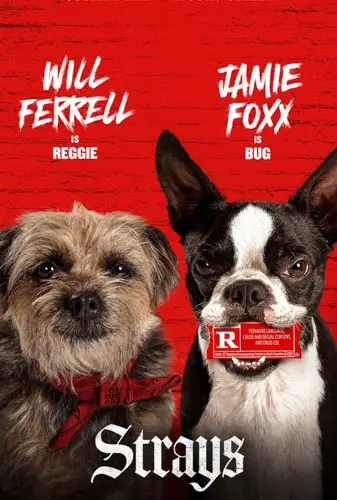 "…goofy, silly, and filthy."