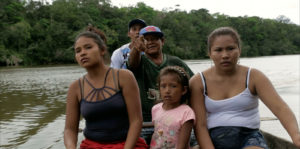 For over fifty years, the government of Colombia and the Leninist guerilla forces of the FARC (Fuerzas Armadas Revolucionarias de Colombia) engaged in South America's longest-running conflict. Said conflict took the lives of soldiers, guerilla fighters, and many average Colombians. Diplomatic inroads culminated in a bilateral cease-fire in 2016. Outside Colombia, the cease-fire was hailed as a triumphant moment for peace in South America. However, inside the country, things were much more complicated and less triumphant. Some sectors of Colombian society did not agree with the government's proposal granting forgiveness to FARC fighters that put down their arms. As a result, the reintegration of former FARC members into society has not been easy.
Directors Noah DeBonis and Laura Angel Rengifo's Strangers to Peace follows three former fighters who take their difficult journeys toward reintegration. The three not only have to navigate their way into a society they have not been part of for years but must also deal with the threat of death looming over them. Of the 51,655 combatants who have attempted to return to Colombian society, 2,331 have been subjected to reprisal killings. It is unclear who is behind most of these murders. What is clear is that the post-peace process has been bumpier than anticipated.
The documentary works well by drawing viewers in by giving them compelling personal stories. Alexandra came from the Barasana indigenous community. Her mother physically abused her, so she ran away from home at a very young age and joined the FARC. She began seeing live conflict as a child soldier at the age of 13. The filmmakers capture her at the precise moment when she has established a romantic relationship with a young man and is attempting to reconnect with her parents.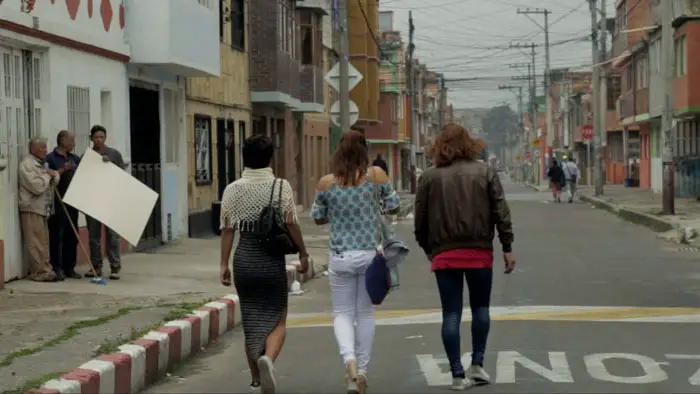 "…follows three former fighters as they take their difficult journeys toward reintegration."
Javier grew up in poverty and was estranged from his parents. He dutifully served in the FARC for twenty years while keeping a secret. He recounts wearing women's underwear underneath his uniform. We meet him as he is transitioning into life as a regular Colombian civilian and as a woman — Dayana. She has dreams of starting a business and is in the process of making connections within Colombia's LGBTQ community. Dayana, however, is wary of revealing her past involvement in the FARC to those she befriends within the community.
Finally, Strangers to Peace introduces us to Ricardo. He, too, came from poverty. A schoolteacher recruited him to join the FARC. We are introduced to him at a point in his life wherein things have become poetically cyclical. He is enrolled in a program in pedagogy and is now a father. Ricardo faces the dilemma of having to reveal to his future students and their parents his involvement with the FARC. He also considers if and when he should reveal to his daughter his past life as a guerrillero.
To the film's credit, it gives a human face to the FARC without sanitizing the guerilla movement's past actions. Debonis and Rengifo make it clear to those unfamiliar with Colombian history that the FARC engaged in terrorist acts against civilians and indigenous communities, including kidnappings, extortion, and drug trafficking. However, the documentary slips a bit in showing the FARC as though it existed in a historical vacuum. We are presented, in detail, the lives of these three former guerrilleros trying to reintegrate into society while only hinting at the poverty and degradation they faced growing up. The FARC resulted from decades of marginalization of indigenous, rural, and poor communities by the Colombian government.
One wishes that Strangers to Peace would have contextualized the FARC within the larger context of a very dark and brutal history of exploitation on the part of governments in South America. The US education system barely mentions South American history. We can all use a crash course. Strangers to Peace opens the door to further inquiry.
Strangers to Peace (Ajenos a la Paz) screened at the 2022 Miami Film Festival.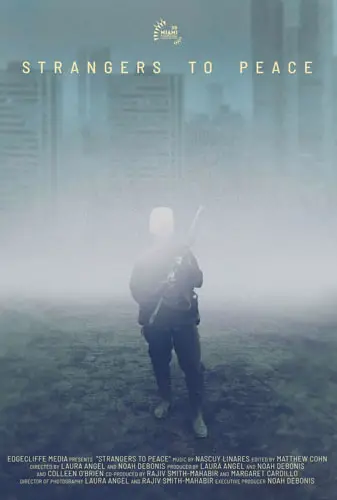 "…gives a human face to the FARC without sanitizing the guerilla movement's past actions."