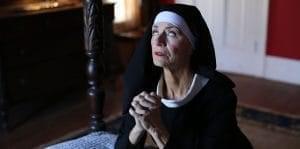 Set in the 1950s in small-town Georgia, a pregnant young woman named Agatha seeks refuge in a convent. What first starts out as the perfect place to have a child turns into a dark layer where silence is forced, ghastly secrets are masked, and every bit of will power Agatha has is tested as she learns the sick and twisted truth of the convent and the odd people that lurk inside its halls.
The skeletal figure of Sister Susan (Marsha Fee Berger) approaches a haggard and obviously pregnant Mary (Sabrina Kern) at the dining hall of a homeless shelter in rural Georgia. Slipping Mary a card, Sister Susan offers refuge for expectant women. It's the 1950s and a woman in her condition is not so much pitied as she is frowned upon. Alone, destitute, Mary has nothing but the clothes on her back, the bruises from her abusive father (Jayson Warner Smith), and a baby growing inside of her. That's not to mention a recent tragedy that sends Mary to strike out on her own in the worst of circumstances, at the mercy of any who offer help.
Father Andrew (Seth Michaels) drops Mary off at the edge of a driveway in the country. Pine trees towering over her, she makes her way to a secluded plantation estate run by a convent of nuns. Mother Superior (Carolyn Hennesy) greets Mary and welcomes her with open arms and conditions. After a trial period, Mary can choose to stay with the nuns and a collection of pregnant women in exchange for refuge and submissive behavior… and something else.
"…Mary can choose to stay with the nuns and a collection of pregnant women in exchange for refuge…"