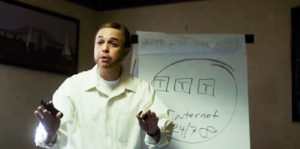 Based on the book, Zero to Hero, director Khoa Le charts the humble beginnings of Amazon founder Jeff Bezos in the biopic Bezos: The Beginning. Armando Gutierrez plays Jeff Bezos, who in 1994 was a hedge-fund executive whose company was exploring the seemingly limitless potential of the internet. Tasked with coming up with the next excellent internet idea, Jeff proposed an online bookstore site that would eliminate the need for brick-and-mortar stores and could sell every book title imaginable… with no sales tax.
Instantly, Jeff was told his idea was too grand for the time and that, personality-wise was not up for the task. However, that night Jeff would convince his wife, MacKenzie (Alex Mitchell), to quit her job and join him in giving birth to the horribly titled Cadabra. Needing investors, Jeff goes to his father, Miguel (Emilio Estefan Jr.), for some seed money, and off to Seattle they go. Immediately, Jeff converts the garage of his new home into an office and hires Shel Kaphan (Nick Friedman) and Paul Davis (Sasha Andreev) as developers. All he asked from Shel and Paul was to work tirelessly for long hours, and in exchange, they'd receive a small ownership percentage in the company (Yep, that's how it worked in the 90s).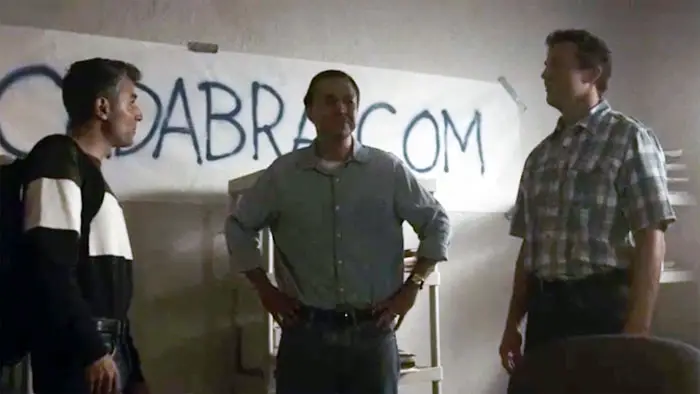 "Instantly, Jeff was told [Amazon] was too grand for the time and that, personality-wise, he was not up for the task."
Bezos: The Beginning then digs into the foundations of Cadabra that were being laid. Jeff was responsible for finding investors, but while attending a booksellers conference, is approached by Barnes & Noble CEO (Kevin Sorbo). The CEO warns him that Jeff's idea is a personal attack on B&N and the phrase "world's largest bookstore" is a personal affront. So if Jeff went through with his plan, there would be retaliation.
I have a great deal of admiration for director Khoa Le and writers Allison Burnett and R.V. Romero. They are true independent filmmakers challenging themselves to take on the story of one of the world's wealthiest men. The film itself is low-budget and low-frills. Oddly, this actually captures Jeff Bezos' humble beginnings as a man with no money, as evident by the fact that much of the action takes place in a garage.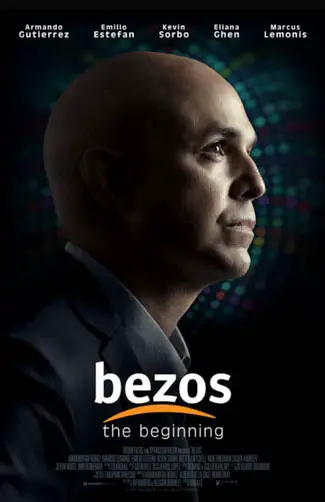 "…a fascinating look into the life, personality, and rise of the powerful Jeff Bezos."