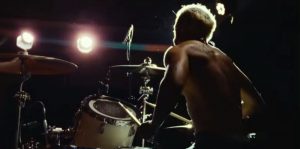 Here's a film so quietly visceral it can sear through metal, "quietly" being the keyword. Don't come in expecting a no-holds-barred assault on the senses. Nor is this a metal music extravaganza. The bulk of the film is silent, deliberate. We are thrust inside Ruben's mind to hear what he hears, a pulsating, muted nothing, which is then jarringly contrasted with everyday sounds when we're yanked back out of his head. The sound mixing and editing are nothing short of phenomenal in Sound of Metal.
This is evident in the most minute moments. Ruben tries to blow his nose to pop his ears. He plays the drums in his RV, hearing only distant reverberations. A pleasant doctor activates Ruben's "new ears"; the result is not what he expected. The world sounds like it's filtered through corroded metal. There's a beautiful moment of Ruben observing Lou as she performs a transcendent little French ditty that rivals any sequence from any film this year.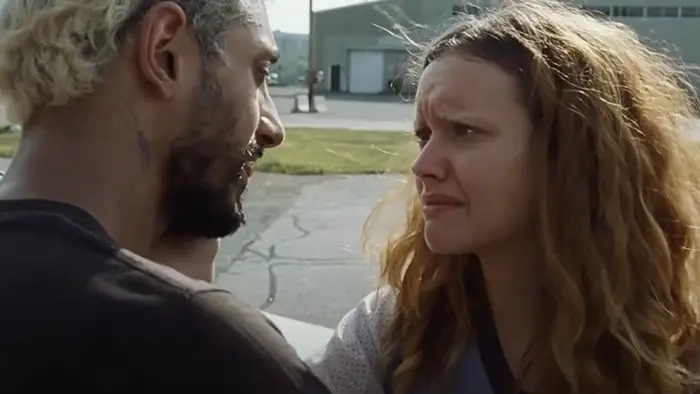 "…a film so quietly visceral it can sear through metal…"
Ruben's inability to face his fate renders him not only deaf but blind to the reality around him. Surrounded by caring people that accept him, even offered steady employment, he fails to comprehend how miraculous this opportunity really is in his downtrodden life. As a result, he's not welcomed back by Joe when he arrives, broke and pleading, ears bandaged post-operation that may rid him of this "affliction," akin to an alcoholic brandishing a whiskey bottle at an AA meeting. "The world does keep moving; it can be a damn cruel place," Joe tells him, "but for me, those moments of stillness, that place, that's the Kingdom of God."
Ahmed is magnificent. He unflinchingly portrays his character's transformation, from frequent affectionate moments to displays of utter despair. "What I need is a gun in my fuc*ing mouth!" he screams at Lou after throwing a violent tantrum in their RV. Not many other actors could break hearts with a mere three words: "It's okay, Lou." Olivia Cooke brings to mind Michelle Williams' performance in Manchester by the Sea, similarly brief but powerful enough to hold its own against Ahmed's fierce turn.
At its most basic level, Sound of Metal will make you reevaluate and cherish your five senses, without which this vivid world would dim and perhaps cease to exist. But Marder delves much deeper. He points out that one's identity does not reside in their hearing or eyesight or touch or taste or smell. He explores sacrifice, selfishness, and making the right choices at the expense of your well-being.
I hear Ahmed is playing Hamlet next. Judging by his unforgettable performance in Marder's superb Sound of Metal, he's more than up to the task.
Sound of Metal screened at the 2020 AFI Fest.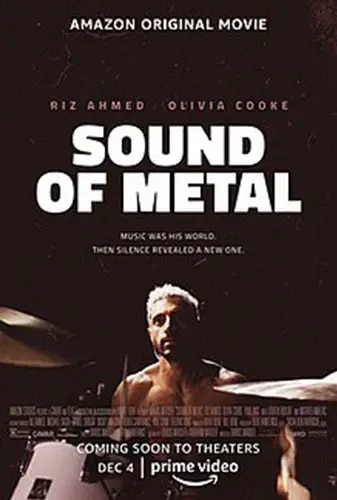 "…Ahmed is magnificent..."