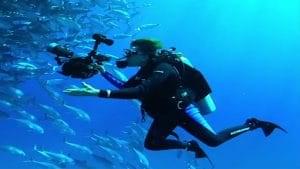 I'm not a big fan of scientific and ecologically minded documentaries. I know, I know — they're good for you, like a low-cholesterol diet and National Geographics.
This may be heresy to some, but I never really cared for the films about the Big Kahuna of oceanographic exploration, Jacques Cousteau. My view was probably in the minority, as Cousteau seemed to do for underseas  exploration what the Apollo Missions did for outer space — made vast expanses of unexplored areas visible to TV viewers, provided a wealth of mind-blowing facts and made the idea of exploring the ocean floor exciting.
I'm late coming to the party, but this film about marine scientist Sylvia Earle and the expeditions she took part in around the world can make a believer out of the most oblivious of subjects, namely me.
"If we wait another 50 years, opportunities that we have now will be gone." — Dr. Sylvia Earle
The film is great to look at and not burdened with technical information. If a science-oriented documentary feels more like homework than entertainment, I'm apt to simply hit the eject button and dig out another less challenging disc. Ocean Blue stayed within my informative-entertainment comfort zone.
I may sound like an overzealous new convert, but it's message is direct, and one that everyone ought to hear — we're destroying the oceans and if the oceans die, so will we. All of the algae and plankton in the sea makes oxygen and absorbs a big part of the world's carbon dioxide. So those of us who enjoy breathing ought to take notice. Also, overfishing our waters runs the tremendous risk of depleting various fish species and driving some to extinction, which will hasten the destruction of sea.
Earle has been observing the oceans for decades, and she's seen once-healthy reefs vanish because, as one interviewee states, we think we can take whatever we want out of the ocean and dump whatever we desire into it as if it were a cesspool. Polluting industries, such as livestock, lumber, fishing and especially oil and gas drillers, are working overtime to deplete and smother the life out of the oceans and seas.
Despite the film's dire message, the photography is dazzling. I could spend a healthy chunk of time simply watching the schools of fish darting about in unison, seemingly taking part in a well-choreographed ballet.
"Its message is direct, and one that everyone ought to hear — we're destroying the oceans and if the oceans die, so will we."
In many ways Earle is a remarkable figure who, from her younger days in Florida, was taken with the ocean. The challenge for her was being accepted in a field that  in the 1960s was dominated by men. She was often the lone female in an expedition but soldiered on. Driven to take part in, and later lead, expeditions that surveyed marine life in many different parts of the world, her passion for oceanographic exploration came at a price, however. She spent large blocks of time away from her children, and had three marriages that ended in divorce. Yet, by all appearances she doesn't regret for one moment taking the path that she chose.
The movie is not a downer, despite the gloomy predictions of what lies in store for us if we don't change our ways. Earle spends around 300 days out of the year lecturing around the world, and believes that we can repair the damage that's been done. But the time to act is now.
"If we wait another 50 years, opportunities that we have now will be gone," she said.
This message ought to be heard, especially in times like these, when we're taking steps backward in preserving the planet's ecology when we ought to be moving forward.
Mission Blue (2014) Directed by Robert Nixon and Fisher Stevens, written by Mark Monroe and Jack Youngelson, starring Sylvia Earle, Barbara Block, James Cameron and Michael deGruy.
9 out of 10