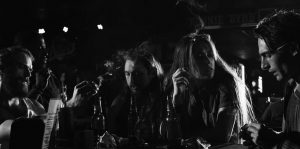 Movies just look better in black and white. The contrast is crisper, the subtleties are sharper, and the overall look is classier. Some Southern Waters, a pseudo-Lynchian mind-bender concerning one man's struggle to cope with the loss of his love, boasts spectacular black-and-white photography. However, like many beautifully photographed films, the style tends to overshadow the substance.
It's an admirable yet daunting endeavor for any director to undertake an emulation of the weirdness and oddity that has become the trademark of movies by directors such as David Lynch or Darren Aronofsky. In Some Southern Waters, director Julian Baner plays with chronology, surrealism, and dream states in a moderately successful attempt to flatter those directors by injecting an atmosphere of the bizarre into telling his story.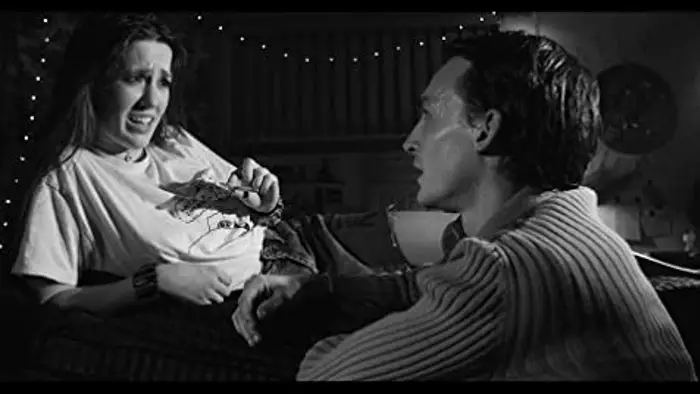 "…concerns Jon's rather ineffective attempt to heal from Mona's death."
In doing so, Baner opens with a fabulous shot of a hole in what looks like a wall. As the camera zooms out, we realize that the hole is, in fact, the eye slit of a mask worn by a girl on a beach who is possibly dead. That's about as good a start to a mystery as one is likely to get. This opening shot sets a tone reminiscent of Buñuel and Dali's Un Chien Andalou, and it immediately intrigues the viewer.
We then meet Jon (Bry Reid), a sort of 1950's greaser-type who has an unhealthy obsession with hair pomade, as he readies to meet his girlfriend, Mona (Rachel Comeau), at a nearby bar. At the bar, Mona relays to Jon a dream she had that involved a nondescript house, opera, an old guy with dirty feet, and a masked figure in a window: a nightmare straight out of Twin Peaks.
Later, Jon and Mona venture out for a midnight ride, stopping at a small woodsy clearing for a little dalliance. Mona falls into a pond when she spots what looks like someone watching them. Upon rescuing her, Jon quickly hightails the two of them out of there. As they are making their getaway down the deserted backwoods road, Jon swerves to avoid a man who has suddenly appeared in the middle of the road. As a result, Jon collides head-on with a tree, killing Mona.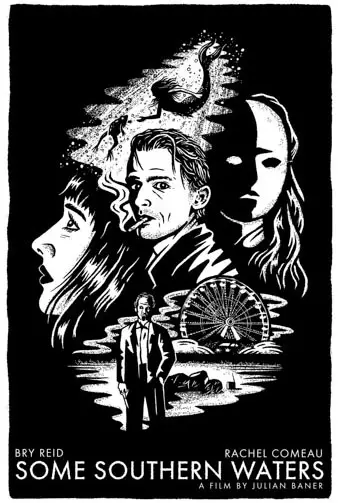 "…a little ethereal, a little cerebral, and a lot peculiar."