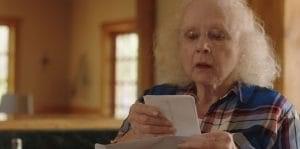 Performances all around are strong, with Piper Laurie's Rose taking the lead and directing us through the story's narrative. The action shifts back and forth between the present and the 1960s, and we are invited to soak in the retro atmosphere as the story unfolds at a leisurely pace. Scenes set in the past are punctuated with photos that Louise takes with an old box camera, thus the film's title.
In the end, the three women come to terms with their differences as they become closer. Each comes away understanding the others a little better, and so do we.
Snapshots (2018) Directed by Melanie Mayron. Written by Jan Miller Corran, Katherine Cortez. Starring Brooke Adams, Piper Laurie, Brett Dier, Emily Baldoni, Max Adler, Cathy DeBuono, Emily Goss, Louise Baxter, Shannon Collis, Christopher McVay, Shana Sarin.
8 out of 10