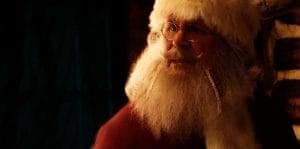 It's Christmas Eve, and three cosplaying women come across the malevolent Christmas demon Krampus. The girls must team up with Santa Claus himself to battle the creature and save the world.
Tell me who wouldn't love beautiful ladies, horror, and an epic battle between Santa and the powers of evil? This seems to be the thought as writer-director Dan Walker, and co-writer Jessica Luhrssen delivers the horror comedy Slay Belles.
The cold open shows some promise as Dahila (Susan Slaughter), Sadie (Hannah Wagner), and otherwise straightlaced friend Alexi (Kristina Klebe) hold Ranger Sean (Stephen Ford) in a chair at gunpoint. A scraggly biker in a Santa outfit (Barry Bostwick) stands in the corner, keeping an eye on things outside. Sean demands to know what's going on and as the audience, our curiosity is understandably piqued. Oh if the rest of the film lived up to the opening.
We cut to 12 hours earlier when Dahila and Sadie, a pair of cosplaying social media celebrities, convince their pal, Alexi, to come with them as they shoot their next video where they break into an abandoned Christmas theme park. Their gimmick is simple; Break in, broadcast, steal a memento, get the hell out of there. Of course, things don't go as planned.
"…thrust into the center of an epic battle between Mrs. Claus, Santa, and the Krampus…"
The trio stop by a local bar for some liquid courage and they run into Cherry (Diane Salinger), a deliciously seething bar owner who can't provide egg nog but offers a shot of whiskey instead. It's at this point that they also learn of some recent bear attacks happening in the woods nearby. Undaunted the three adventures carry on.
We get to Santa Land and things SEEM to be going well enough. That is until they begin to get the sense that they are being watched. Think a sexier, holiday version of a Scooby-Doo episode and you have the vibe. These scenes of the three doing their social media thing are fun enough, and props to the production design team behind the graphic design team that was tasked with replicating the look social media. It is on point. However, after the three make further discoveries in Santa Land, they realize that getting out alive is the least of their worries. They are soon thrust into the center of an epic battle between Mrs. Claus, Santa, and the Krampus (Joel Ezra Hebner).
The idea of self-centered social media influencers being thrown into a do-or-die battle to save Christmas is fun enough. Even more, fun is seeing female leads kicking some a*s, taking names and saving the world in festive attire. Yet something is lacking.
"…as usual, Klebe is magnetic in her uptight, yet cool as hell performance…"
The performances are infectiously naughty and fun to watch. As usual, Klebe is magnetic in her uptight, yet cool as hell performance. Diane Salinger plays big as Cherry and we live for every second she has on the screen. Bostwick, is, of course, the most game of anyone in the entire cast and easily the most irreverent.
The problem here is the script that has few places to go. We understand the conceit, we get to Santa Land and all its dreary abandonment, but when the fruitcake hits the fan, we lose direction. Throughlines become scattershot and we know not where we are headed.
Yes, we tie back into the cold open, Ranger Sean at gunpoint, scraggly Santa in the corner, and three women in charge. At that point though, we just want to see how the film ends, we hardly care about the mystery of how they got there in the first place. Thankfully, Walker is a competent director whose work I can say I look forward to now. The energy is kept sky high, and the pace is fast, and you can tell Walker knows what a fun movie is.
Slay Belles isn't that present you have been waiting for, nor is it a lump of coal. It kinda lands somewhere in the middle, like the gym socks you know you need.
Slay Belles (2018) Directed by Dan Walker. Written by Jessica Luhrssen, Dan Walker. Starring Susan Slaughter, Kristina Klebe, Stephen Ford, Hannah Wagner, Barry Bostwick, Diane Salinger.
5 out of 10 stars