In Guy Mattiv's short film Skin, he takes head-on red-neck racism with a twinge of Twilight Zone in this powerful morality tale.
Skin opens with a loving red neck family. Jeffrey (Jonathan Tucker) is giving his 9-ish-year-old son, Troy (Jackson Robert Scott), a nice tight haircut. Christa (Danielle Macdonald), Troy's mother, is anticipating the family trip to the lake. So far, a nice normal family.
The family arrives at the lake and socialize with their gang of friends. Talk soon turns into target practice as the group begins firing on an abandoned car with a variety of firearms. In need of some spending cash, Jeffrey makes a bet that young Troy and shoot a watermelon with a rifle.
Returning home, Jeffrey, Troy, and Christa shop for groceries. As they check out, Troy sees Jaydee (Ashley Thomas), who is African-American purchasing items two aisles down. Troy notices Jaydee is holding his son's action figure. They make eye contact and smile as a way of creating a friendly connection.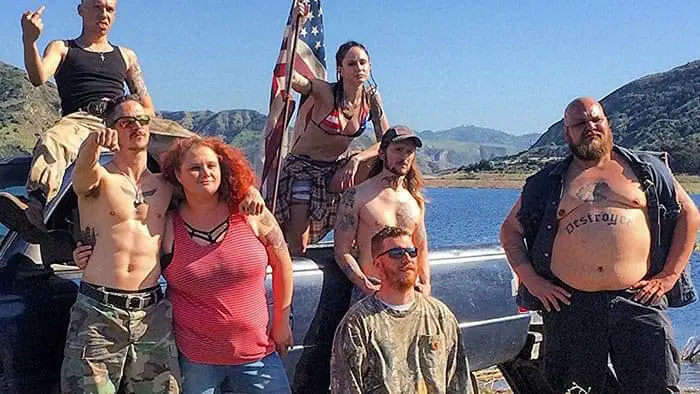 "…beating Jaydee within an inch of his life…where his wife and kids witness the assault."
Suddenly Jeffrey sees this attempt at friendship and immediately puts a halt to it. The results are Jeffrey and his friends beating Jaydee within an inch of his life in front of Jaydee's car, where his wife and kids witness the assault. It is here that the short takes a mysterious turn.
Race relations and the lack thereof is a hot topic today, and Skin is a short that shines light on this issue and the wrong path we're headed down. While the short tells its Hatfields-and-McCoys story, it smartly shifts its point of view to the young boys, Troy and his counterpart in the story, Lonnie (Maliq Johnson).
Skin tells a solid story with an effective ending. The only downside is the red necks are just a little too stereotypical as rednecks. A little heavy-handed, I would say.
Racism and revenge are values we pass on to our children. Not directly or verbally, but through our actions. Kids see what we do, only to grow up and repeat the cycle of hate.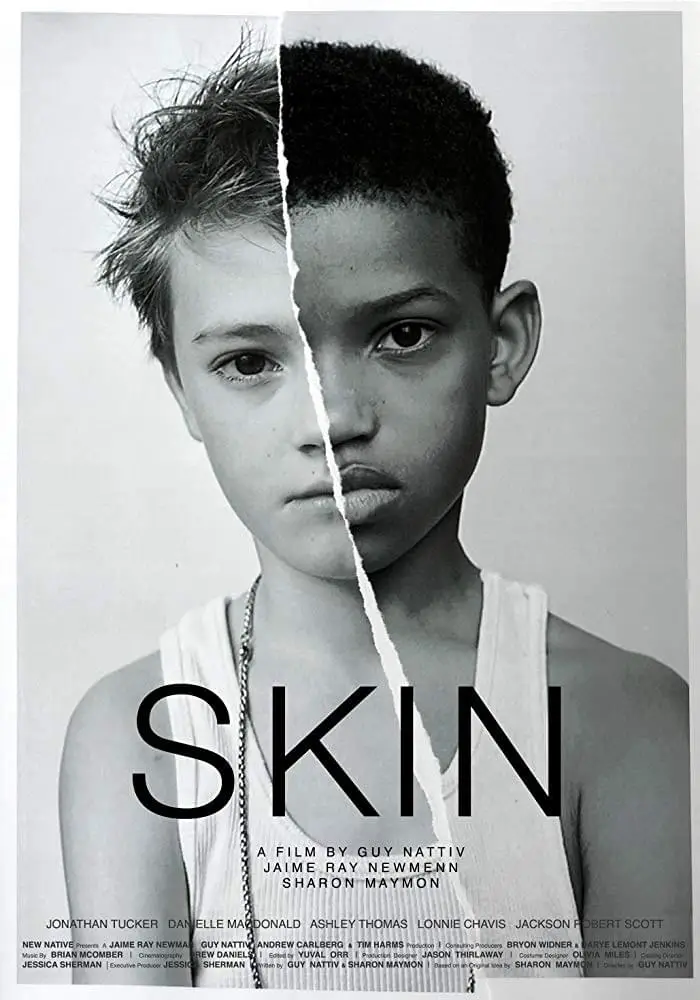 Skin (2018) Directed by Guy Nattiv. Written by Sharon Maymon, Guy Nattiv. Starring Jonathan Tucker, Jackson Robert Scott, Danielle MacDonald, Ashley Thomas, Maliq Johnson. Skin screened at the 2018 HollyShorts Film Festival in the Primetime block. Some of the characters may be mixed around in this review.
7 out of 10 stars