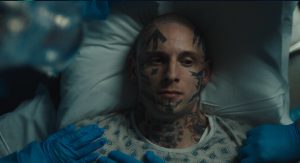 Jamie Bell has come a long way since doing pirouettes in Billy Elliot. That breakout performance led to the actor appearing in a slew of wildly disparate but equally intriguing projects: Lars von Trier's dissection of human sexuality Nymphomaniac: Vol. II, Bong Joon-Ho's dystopian sci-fi Snowpiercer, Tim Sutton's uncompromisingly brutal Donnybrook – and now, writer/director Guy Nattiv's study of white supremacy, the scalding drama Skin. Marking perhaps Bell's most fearless and raw performance to date, the film will make your skin frequently shiver in repulsion and exhilaration. 
Set in the slums of Ohio, Nattiv establishes his feature's relentlessly bleak, violent, impassioned disposition from the get-go. We see Bell's tattoo artist, Bryon "Babs" Widner, getting initiated into a white supremacy group, a.k.a. "the family," led by Bill Camp's Pa, Fred "Hammer" Krager, and Vera Farmiga's Ma, Shareen. Bryon gets his head shaved, drinks blood from a horn, and chants with the other members. It's not long before he leads a violent street showdown, wherein a 14-year-old black kid gets brutally beaten. Bryon promptly gets caught and questioned by the FBI, with Mike Colter's Daryle set out to "turn one of these a******s and see the errors of their ways." "Guys like this only have three options," he says. "Die young, life in prison, or he starts talking. Let's hope he starts talking." They set Bryon free and observe him, gradually influencing him to "switch sides."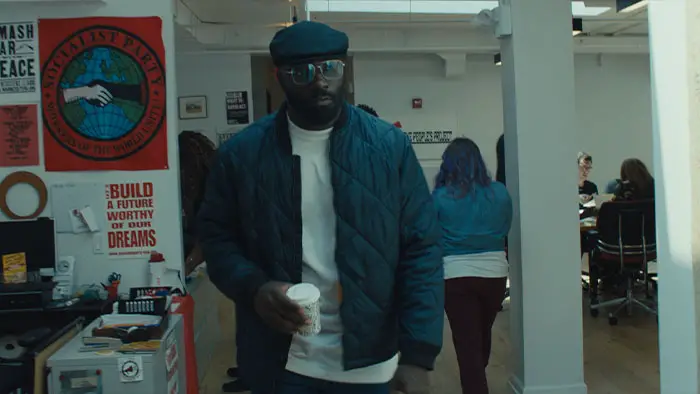 "…Bell's tattoo artist, Bryon 'Babs' Widner, gets initiated into a white supremacy group, a.k.a. 'the family'…"
During one of Krager's rallies, Bryon meets Julie (Danielle Macdonald), a mother of three who's "just here for the paycheck." As much as she wants to protect her children from the fascist filth, Julie can't help but fall for the charming Bryon. A romance rapidly blossoms, Bryon bonding with Julie's daughters. His anger at the world, spawned by his abusive upbringing, soon begins to thaw – yet "the family" disapproves of his relationship, incessantly pursuing him, dragging him back into the murk. Two incidents – one involving a mosque and another a savage burning – finally set Bryon and his new family on a path to potential salvation…but can one truly escape their own skin? 
"…"...covered in tats, a vehement glare in his eyes gradually morphing into that of vulnerability...""