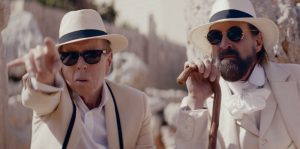 Deadly mosquitoes cross timelines and infect characters in writer/director Daniel Graham's off-kilter, difficult-to-define The Grand Duke of Corsica. Beneath the juvenile, slight surface lies a sincere study of a relationship between aging eccentrics, a clever upending of cinematic tropes, and an ode to two splendid actors. Unfortunately, Graham's result never feels complete, and one has to wade through a multitude of scatological references to get to the warm heart of the feature. Still, fans of the two leads, in particular, will find a lot to enjoy in this borderline-farcical, layered little piece.
Said layers reveal themselves as the plot progresses. No spoilers shall be given here. The main storyline takes place in present-day Malta. Famous, pompous architect Alfred (Timothy Spall) designs (frequently phallic) pieces of art. "Too much sympathy is bad for brotherhood" is the kind of thing the curmudgeon spouts. One night, during an Eyes Wide Shut-like private event, Alfred meets the seductive Poppea (Alicia Agneson), who in turn introduces him to a dying billionaire, the titular Grand Duke (Peter Stormare).
The Duke commissions Alfred to build him a mausoleum by the sea. Alfred finds himself intimidated by the task – something he has not felt in a long time. Normally reclusive, he finds himself drawn to the Duke. The two men have frequent lunches, attend soul-piercing choirs, and engage in a heartrending back-and-forth.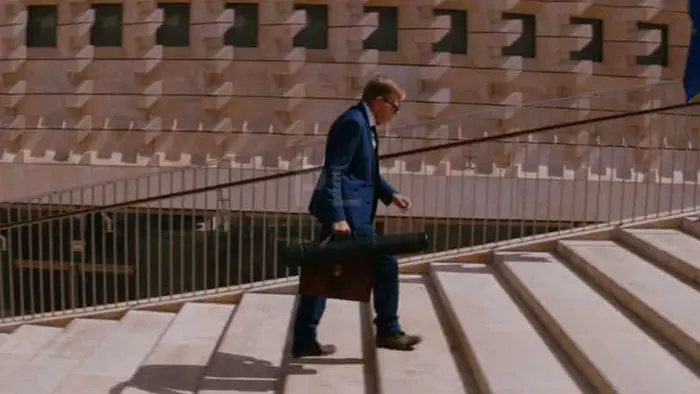 "The Duke commissions Alfred to build him a mausoleum by the sea."
And then there's the subplot, taking place a thousand years earlier, also in Malta. It involves a young man, Leos (Matt Hookings), with more than a passing resemblance to Jesus, on a path to earn sainthood. He meets a sick woman with decaying flesh ("My body is a repulsive river of puss and blood") and heals her. Just when you begin questioning some of the logic there, as well as the shoddy puss make-up, a pseudo twist occurs.
The filmmaker is rather expertly toying with conventions, but to what effect? The Grand Duke of Corsica moves at its own peculiar rhythm. Characters step into excrement or wax poetic about turds before discussing art and death. Similarly, the director dwells on a bizarre albeit inventive, kind-of-meta story thread before truly riveting with his two leads. The parallel plots end up competing instead of gelling.
With that being the case, Hookings has his work cut out for him. He's going up against arguably two of the finest actors of their generation, Spall and Stormare. The fact that he holds his own, especially in the second half, when things unravel and become clearer, speaks volumes to his acting prowess. The stalwarts are expectedly splendid, their relationship at first "odd-couple" cutesy, but gradually attaining poignancy and culminating in a beautiful scene of Alfred telling the Duke a touching story. If nothing else, the film is 100% worth seeing for the sight of Spall banging it out, or Stormare – who's made a career of playing eccentrics – take it to a new level.
Facing death, acknowledging your defects via intimacy ("As I got drawn deeper into the Duke's world, I got the uncomfortable feeling of looking into a mirror," Alfred intones) – art and artifice go hand in hand in The Grand Duke of Corsica. It brings to mind Michael Winterbottom's underrated masterpiece Tristram Shandy: A C**k and Bull Story. "Always the same faces, and then the feces," Alfred scowls at himself in the mirror after taking a dump. If you're up for something truly unusual, as refined as wine but with a whiff of excrement, then the film will be right up your a*s… ahem, alley.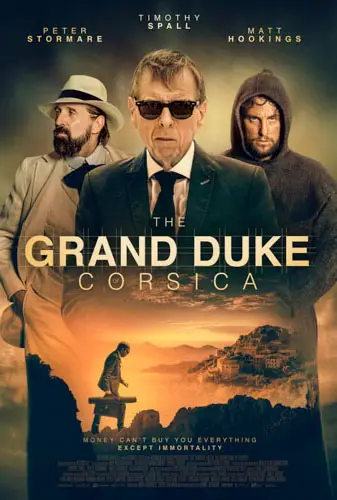 "…as refined as wine but with a whiff of excrement..."