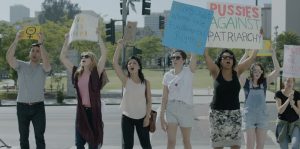 NEW TO DVD REVIEW! A Simple Wedding follows thirty-something Nousha Husseini (Tara Grammy), who is looking for any means necessary to avoid the arranged marriages her traditional Persian family pressures upon her. After sabotaging the most recent pair of would-be engagements, Nousha's friends and coworkers convince her to meet them at a "P*****s Against Patriarchy" protest. A group of performance artists, "The Menstruals," led by the bisexual artist Alex Talbot (Christopher O'Shea), also join the rally. Nousha and Alex lock eyes, and sparks ensue.
After a successful first date, and passionate one night stand, the two become a couple and move in together. Nousha hides Alex's existence from her family out of fear of their reactions until Alex nonchalantly exposes his underwear-clad body in a facetime call between Nousha and her mother. With their backs to the wall, the couple meets Nousha's family, and Alex unknowingly locks them into a speedy marriage. With secrets and past trauma bubbling under the surface, the two families and cultures collide in a "simple" wedding.
Sara Zandieh's script for A Simple Wedding is original and packed with modern commentary on progressive social issues. While weaving the commonality of those issues, she creates an airy mood, in which, even imagining a time when society closed their eyes to such things as the spectrum of sexuality and women's rights seems otherworldly. Nousha is a strong woman, with a less than perfect image of herself, but realizes her worth is not bound to a man. Not only is marriage a tradition she won't allow her family to force upon her, but it's also an idea that she holds dear to herself and won't let be tainted by spending her life with someone she could never love.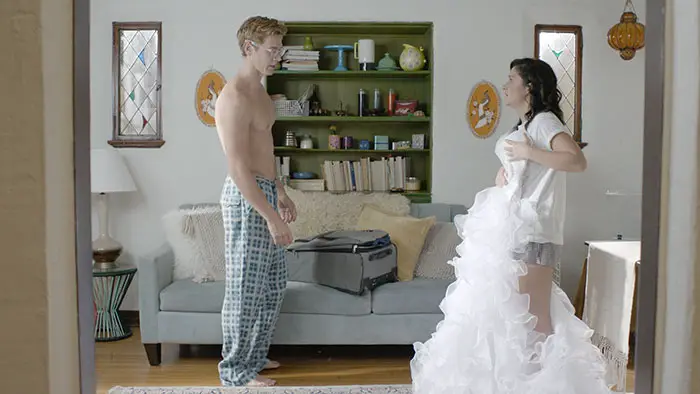 "…the couple meets Nousha's family, and Alex unknowingly locks them into a speedy marriage."
Alex is a carefree spirit, floating through life with his own past trauma stemming from his parents' divorce when he was a teen. He's an almost pure liberal at heart and accepts everyone and everything, no matter their color, orientation, or creed. These leading characters are performed so convincingly, you'd believe Grammy and O'Shea were living out their true selves on the screen.
Zandieh orchestrates a witty cast of characters whose patient observations on marriage and the ins and outs of family, create the traditional laughs of the romcom. War veteran Uncle Saman (Maz Jobrani) especially stood out. Jobrani's careful execution of light-hearted interactions with the members of the families who seemed most damaged was a treasure to watch. Shohreh Aghdashloo's portrayal of the traditional mother extended beyond just an Iranian family and conjured memories of any mother just hoping for her daughter to follow the path she (the mother) most wants her to. Not to mention, Ryan-James Hatanaka stole every scene he was in by his flawless comedic delivery.
Where A Simple Wedding thrives is in the flawed honesty of each character. None of the love-searching souls in the film seem to know what they're doing, and that's the most authentic part. Love is messy, confusing, and we get in our own way a lot of the time. But, as this film proves, love finds a way to sliver into place eventually. Zandieh understands these truths, and her movie shows the audience that she's just like them; she's still figuring it all out.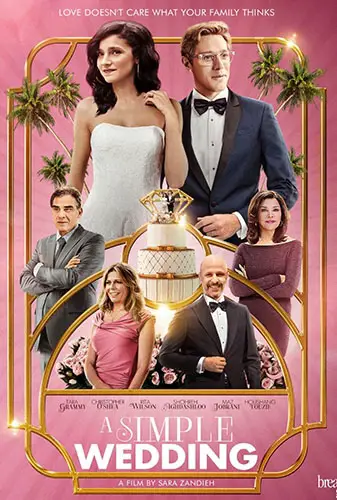 "…packed with modern commentary on progressive social issues."